Battle of wits as DP Ruto and Gideon Moi rivalry hits top gear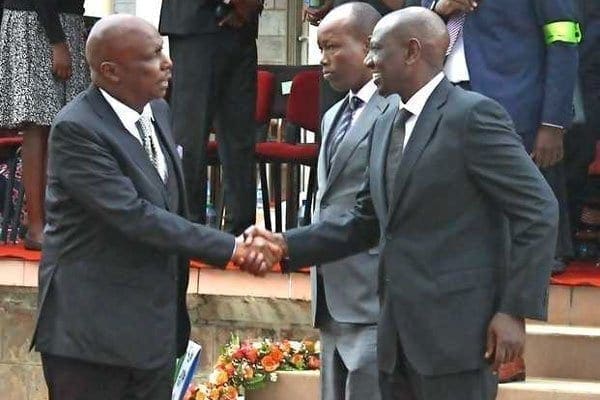 The political pilgrimage to former President Daniel Moi's home in Kabarak, Nakuru, following the death of his son Jonathan last week showed that the race to succeed President Kenyatta has entered a difficult stretch, and that Deputy President William Ruto, who is eyeing the top seat, will have to floor another Moi son, Gideon, on the way to the top.
By skipping to condole with the retired President at home, and visiting the Jonathan homestead at Kabimoi, instead, Mr Ruto, whether by design or to avoid embarrassment since he was snubbed in the same Moi home last year, became the only senior national politician not to set foot in Kabarak.
POLITICAL ENMITY
But it was the events during Jonathan's burial ceremony that brought to the fore the simmering tension between the Deputy President and the Baringo Senator. In the end, Mr Moi appeared to upstage Mr Ruto, but just.
That the cold war between the two antagonists will escalate to the national arena is now an open secret, but the lessons from the Kabarak fiasco also point to a more startling but interesting strategy in the unravelling game of thrones as the former president's home is turned into a Uhuru Kenyatta succession theatre, the same way Jomo Kenyatta's Gatundu home was used in the 1970s by power barons seeking to prevent Moi from taking power.
Moi's home has become quite important ever since the March 9, 2018 truce between opposition leader Raila Odinga and President Uhuru Kenyatta, which not only stopped their political enmity, but also threw the succession race open.
Initially, it appeared harmless; just another political pilgrimage to the retired president's home. But with time, it got more calculative, complete with press releases and photo ops, signalling that the Moi family will play a key role in the Uhuru succession politics.
That has the potential of putting Mr Ruto in a hard place. However, his allies think he has the upper hand over the younger Moi, owing to his high office, charm, and nationwide network.
"Rift Valley is fully behind Mr Ruto and any person opposing him is an imposter," the Kuresoi South MP Joseph Tunoi said. "Mr Ruto is just a stone's throw away from the highest office."
DIVIDE VOTE
Mr Tunoi says the vote-rich region is not panicking at the possibility of the Ruto-Moi rivalry splitting votes come 2022, but at the grassroots, where community leaders play, the ground is getting increasingly uncomfortable.
"Senator Moi has been humiliating the Deputy President. We all know Mr Ruto is our leader and candidate for the 2022 elections. Senator Moi's mission is to divide the Kalenjin vote, but votes do not rest in Kabarak, but with the people," said Mr Peter Cheruiyot, the Nakuru County Jubilee Party secretary-general.
By frustrating Mr Ruto's efforts to meet the retired president, Mr Moi appears to have played into Ruto's hands. Yesterday, the DP asked those opposed to his candidature to build their parties first.
"We're not going to be taken back to the archaic political regime of ethnicity and hate," Mr Ruto said during a prayer service in Molo.
"I ask those seeking to compete with us to put their house in order, make their parties national, and then face us. We are ready. We know where we've come from, where we are, and where we're heading. Petty politics will not divide the President and I," he said.
Senator Moi has occasionally hinted that he will also run for the presidency. The Ruto team has interpreted this as an attempt to divide the Rift Valley vote.
The rift in ideologies shows in their strategies, too. Mr Ruto has been penetrating opposition zones with his eyes keen on his Rift Valley backyard, while Mr Moi leads a rather deflated Kanu outfit and is said to be plotting an alliance with like-minded politicians and political parties ahead of 2022.
COST REGION
At the moment, his political allies include Tiaty MP William Kamket and his party secretary-general Nick Salat, who was appointed chairman of the Postal Corporation at the weekend.
Mr Ruto has been on a whirlwind tour of the country, most of it explained as church functions, but which is seen as part of his build-up for support ahead of 2022. Although he has the backing of most of Mt Kenya MPs, there is fear that his rivalry with Mr Moi could slow down his campaigns. On several occasions, the Rift Valley Council of Elders has offered to mediate reconciliation talks between the two.
The elders' patron, Mr Gilbert Kabage, says the rivalry could cost the region the presidency. "The two must unite," he says, "for the good of the region. And the Deputy President should not be blocked from meeting his political mentor, Mzee Moi. It is bad."
At the wake following Jonathan's death, the Moi family issued a statement seeking privacy and announcing that "Mzee Moi may not be able to personally receive those wishing to offer their condolence".
But the fact that senior political leaders, apart from Mr Ruto, managed to directly offer their condolences to President Moi was interpreted to mean that there was more rivalry than need for privacy playing out at Kabarak.
AVOID DRAMA
Besides President Kenyatta, others who were allowed to condole with President Moi were former vice-president Kalonzo Musyoka, former presidential candidate Peter Kenneth, chief executive officer of the Kenya Film Classification Board Ezekiel Mutua, Kitui Senator Enoch Wambua and Cotu boss Francis Atwoli.
That Mr Ruto opted to visit Jonathan's home in Kabimoi, about 45 kilometres from Kabarak, has been interpreted by observers as a deliberate move to avoid any drama after sources indicated that he would be denied entry.
In May, last year, the DP visited the former president at his Kabarak home, but failed to meet him after a day of drama.
Moiben MP Silas Tiren defended the Baringo Senator against accusations that he was behind blocking those perceived to be his political rivals from seeing his father. "Let's not politicise this. Mr Ruto serves in high office and should follow protocol. Mzee Moi is approaching 100 years, so if he is not in a position to see the DP, people should not politicise this."
Additional reporting by Wycliff Kipsang and Florah Koech.
By ERIC MATARA
Source-nation.co.ke