Ruto Declined Raila's Advances 4 Times Before Handshake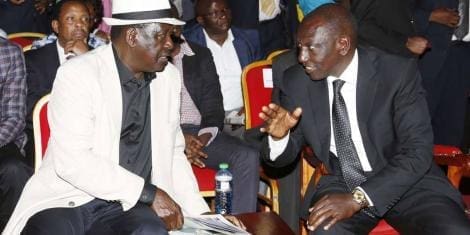 Deputy President William Ruto had a chance to spearhead the now famous handshake but he claims he declined the offer extended by former Premier Raila Odinga a record four times.
While appearing on Citizen TV's Newsnight, the veep outline reasons why he turned down the offer revealing that he had sensed Raila did not have a good motive.
"Raila Odinga approached me on four occasions after the elections to have a discussion. I declined to engage the former prime minister.
"I did not believe that he was doing this in good faith. I was not persuaded that he was doing this in good faith," he explained.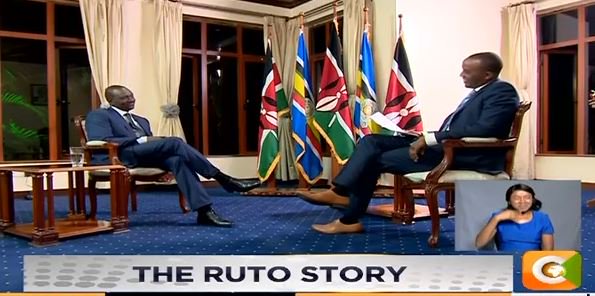 He further revealed that he declined to engage explaining that the party was headed with only one leader and that it is Uhuru who leads all political engagement.
"In Jubilee we have one central command, President Uhuru Kenyatta is the party leader, he is the president and we all defer to him.If there is any engagement with anybody on matters politics, It has to start with Uhuru," he continued.
He further explained that on all the four occasions the former prime minister sought his audience, he would inform President Uhuru Kenyatta making it clear that he would never engage with Raila.
He, however, disclosed that it was not necessary for the president to inform him that he had engaged with Raila and that they had stroke a deal but he brought him on board nonetheless.
"Being the gentleman that he is, he actually brought me on board and told me, 'Mr deputy president, we have had a discussion with the leader of the opposition and we have talked like this… we have agreed like this…' and I gave my views," he told the show's host Hussein Mohamed.
He also denied claims that the handshake had drove himself and Uhuru apart explaining that a lot of people pretend to understand their relationship.
"We have a cordial and a working relationship with President Kenyatta and consult each other on a regular basis. Talk of a rift is far-fetched," he remarked.
Citizen TV Kenya
✔@citizentvkenya
DP William Ruto: Before Raila Odinga engaged the President on the 'handshake', he engaged me, 4 times, but I declined.
All engagements within Jubilee have to start with the President #NewsNight
228 people are talking about this


Ruto Declined Raila's Advances 4 Times Before Handshake