Lawyer petitions MPs to remove CJ David Maraga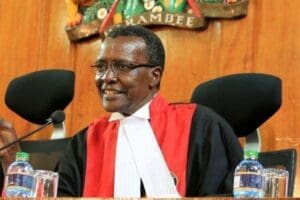 A lawyer has petitioned the National Assembly seeking the removal from office of Chief Justice David Maraga and six other members of the Judicial Service Commission (JSC).
Mr Adrian Kamotho Njenga wants the CJ, deputy CJ Philomena Mwilu, Justice Mohamed Warsame, Justice Aggrey Muchelule, Prof Tom Ojienda, Ms Emily Ominde and Mercy Deche removed on what he claims are serious violation of the constitution and the law, incompetence and gross misconduct in the performance of the functions at JSC.
'GROSS MISCONDUCT'
Mr Njenga accuses Mr Maraga of victimising judges who exhibit diligence, impartiality and judicial independence.
"Mr Maraga and the six JSC members have failed to promote, facilitate the independence and accountability of the judiciary and transparent administration of justice contrary to Article 172 (1) of the constitution.
He says the seven have jointly and severally committed acts of gross misconduct in the performance of functions as commissioners.
The JSC has in the recent past set up a special committee to investigate the conduct of at least five judges related to their work.
PROBE
The judges under investigations are Jackton Boma Ojwang of the Supreme Court, Paul Kihara, who until his nomination to take over as Attorney-General after the resignation of Prof Githu Muigai, was the President of the Court of appeal and justices Erastus Githinji, Fatuma Sichale and Martha Koome.
The special committee is investigating Justice Ojwang over the construction of a tarmac road leading to his private residence in his rural area, while Mr Kihara is on the spot over the manner he constituted a bench of three to hear an appeal of a high court decision that annulled the appointment of presiding and returning officers in the repeat October 26 presidential election because it was done outside the law.
It is justices Githinji, Koome and Sichale who stayed the decision of the high court. However, questions have been raised how they managed to sit without the clearance from the office of the Chief Justice considering the day was a gazetted public holiday.
'MALICE'
"Investigations against Mr Kihara points to malicious agenda on the part of Mr Maraga and the other five JSC commissioners. This purported investigations is entirely unconscionable in light of Sections 13 (1) and 18 (3) of the Court of Appeal (Organisation and Administration) Act," Mr Njenga argues.
He further notes launching investigations in the conduct of the three appellate court judges who have performed their duties in good faith reveals excruciating levels of malevolence, malice and glaring witch-hunt on the part of Mr Maraga and JSC commissioners.
"This is inherently incompatible with Article 160 (5) of the Constitution, given that the judges acted in good faith and lawfully performed legitimate judicial functions as stipulated under Section 13 (1) (b) of the Court of Appeal (Organization and Administration) Act, 2015 .
-nation.co.ke