Nairobi pastor plans special service to dedicate new notes

Nairobi pastor plans special service to dedicate new notes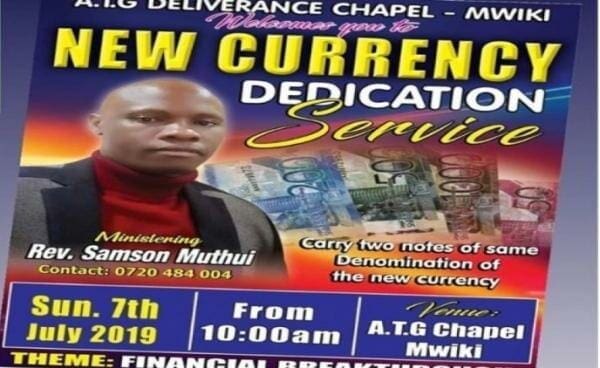 A pastor in Nairobi's Mwiki area has organized a 'New Currency Dedication Service' on Sunday, July 7, 2019.
Rev Samson Muthui of ATG Deliverance Chapel – Mwiki, has requested all congregants to carry two new currency notes of the same denomination in order to claim their breakthrough.
Dubbed 'Financial Breakthrough', the service will focus on breaking the chains of financial stagnation.
Online, the post drew a number of reactions and many netziens criticized the pastor for misusing the altar.
In the recent past, a number of Kenyan pastors have hit headlines for the wrong reasons and have been heavily bashed for giving fake promises to their flock.
One such pastor was Victor Kanyari who was exposed for asking members of his church to 'plant a seed' worth Sh310 to receive their miracles.
Kanyari, the lead preacher of Salvation Healing Ministry, now goes by the name Bishop Mwangi, which he says is his other name.
He was exposed three years ago for performing fake miracles using potassium permanganate which turns purple when dissolved in water.
He used this chemical reaction to convince followers that his prayers washed away mysterious diseases by asking them to step into water and witness the disease being 'washed away' and change the colour of water in the process.
Nairobi pastor plans special service to dedicate new notes