Revealed: Leaked details of Raila's expensive demands after handshake deal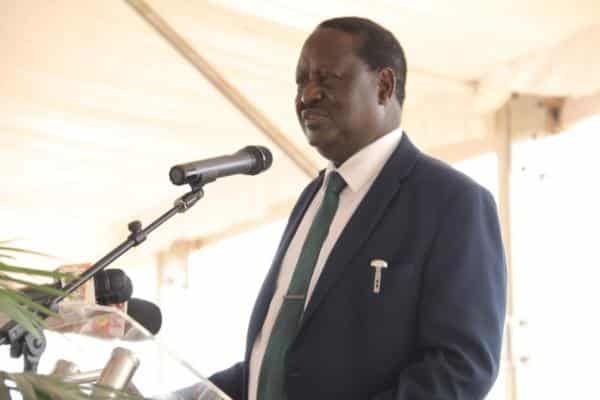 Revealed: Leaked details of Raila's expensive demands after handshake deal: Details have now emerged on the difficult position that officials in the National Treasury have found themselves in the aftermath of the handshake between President Uhuru Kenyatta and ODM Leader Raila Odinga.
The Business Daily on Monday quoted some of the Treasury officials leaking details of some of the demands that they have received from Odinga's office.
The former Prime Minister has been demanding for his pension perks, some of which overlap with the benefits he receives in his capacity as African Union's special envoy for infrastructure development.
Odinga's office is reported to have asked for cash equivalent for some of the perks that are already due to him on account of his role at the AU.
For example, he is entitled to be allocated bodyguards as a former Prime Minister and as an AU special envoy. Treasury officials say they are not allowed to give cash equivalence as that would amount to double allocation.
"Paying the benefits will amount to double allocation. How do we go back to the IG to seek for additional security yet the same office has offered Mr Odinga police for protection due to the AU job?"
"The law does not support for cash benefit. We are mandated to provide benefits, but we may be forced to seek the Attorney-General's advice on this demand," one of the sources quoted on condition of anonymity stated.
As a former Prime Minister, Odinga is entitled to three cars, medical insurance, fuel allowance, fully furnished offices as well as 17 workers – including chefs, security, accountants, secretaries and personal assistants.
The AU job also accords him staff, cars, allowance, and a medical cover. Odinga's handlers argue that these funds are not from the Kenyan government while Treasury officials insist that he was given the position after being seconded by the Kenyan government.
Treasury officials have also declined to give the former Prime Minister the three vehicles he is entitled to, saying they are in a difficult position because Odinga did not return government vehicles after leaving office in 2013.
"We cannot give him vehicles yet government records indicate he never returned cars allocated to him while serving as PM," the source added.