Likoni Tragedy: Mariam Kighenda and baby burial Ceremony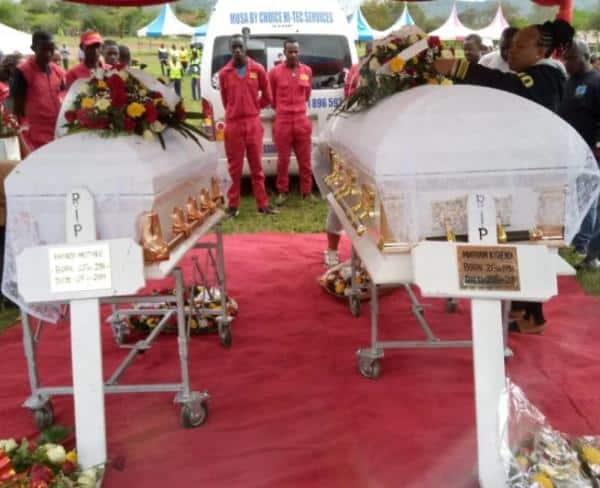 Likoni Tragedy: Mariam Kighenda and baby burial Ceremony: Bodies of Mariam Kighenda and her daughter Amanda Mutheu were Saturday brought to Kima Technical College in Makueni County for mourners to pay their last respects.
According to the family, the two victims of a ferry tragedy will be laid to rest today at their Ngaamba home in Makueni.The mother and daughter drowned on September 29 after the vehicle they were in, a Toyota ISIS, slid off the MV Harambee and plunged into the Indian Ocean.
It took rescuers, the Kenya Navy and Subsea Services of South Africa, 13 days to retrieve the wreckage of the car with their bodies from the ocean.The 13 days were marred with blame games and conspiracy theories with questions mounting about the search and rescue capabilities of Kenya's Navy in the sea. The base commander Levy Mghalu admitted gross inadequacies.
When the wreck was pulled out, the two bodies were found still in an embraced position, indicating that they breathed their last while locked together.
A post-mortem conducted on the bodies at Jocham Hospital mortuary in Mombasa revealed that the two died out of suffocation.
On Friday night, Nairobi Governor Mike Sonko and his team transported the bodies from Mombasa to Makueni for the burial.
Meanwhile, the family of Mariam Kighenda has vowed to sue the Kenya Ferry Services for negligence over her death and that of her daughter Amanda even as President Uhuru Kenyatta cracked the whip on KFS management.He revoked the appointment of the chairman and four board members of the Kenya Ferry Services during his Coast tour.
The burial will now set the stage for what many foresee as a protracted fight for compensation and streamlining of the sorry ferry services.The family spokesperson Luka Mbati on Wednesday evening said they will follow legal proceedings after the government confirmed that the two drowned.
KFS Managing Director Bakari Gowa, on the other hand, advised the family to seek legal guidance in anticipation of a court battle.
"The issue of compensation will not be easy. The family will have to hire a lawyer to go to court," said Mr Gowa, who revealed that the agency had given the family Sh200,000 to cater for funeral expenses.He denied reports that the money was a form of compensation.Police say investigations are underway and several employees who were in charge of the vessel on the day the tragedy happened have been interrogated.
Source-standardmedia.co.ke