PHOTOS/VIDEOS: Ruto's Luxurious high-end Airbus H145 chopper
PHOTOS/VIDEOS: Ruto's Luxurious high-end Airbus H145 chopper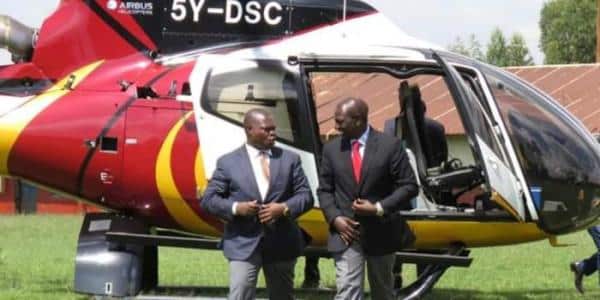 PHOTOS/VIDEOS: Ruto's Luxurious high-end Airbus H145 chopper: It is without a doubt that Deputy President William Ruto is a man who is big about 'the birds' if his overtures across the country are anything to go by.
Many times he has been associated with high-end choppers, whose possession he has denied countless times, but that does not negate the fact that he flies so much in them.
Of all the helicopters he has been seen with, one of the more common ones is the Airbus H145 chopper, registration number 5Y DSC, which he has travelled in to a number of places, including Baringo, Teso and Kisii.
According to Aerospace Technology, a website that deals with helicopters, the H145 helicopter is a twin-engine multipurpose aircraft manufactured by Eurocopter (now Airbus Helicopters).
The website reported that the cost of a used Airbus H145 is Ksh 730 million. A new would set you back Ksh1 billion, coupled with an average maintenance cost of Ksh52 million per year.
The plane is also equipped with the Helionix Avionics System, which significantly reduces the workload of the pilot and enables the helicopter to fly and land even after experiencing a screen display failure.
According to Eurocopter, the plane has a flying range of close to 500km in a single flight, with the capacity to fly at a top speed of 284 km/h and a maximum take-off range of 680km above sea level.
The flight manufacturers also explained that the chopper's cockpit is Night Vision Goggle (NVG) compatible, a characteristic that enables the helicopter to operate effectively both at night and during the day.
The helicopter is reported to have the option to accommodate one pilot and ten passengers, or two pilots and nine passengers at any one time.
Being a multi-purpose helicopter, it can be used to serve a number of purposes, including air rescue services, law enforcement, private use and civil missions.
The manufacturers also pride themselves in the idea that the H145 was selected by the U.S. Army as a new multi-mission Light Utility Helicopter (LUH), called the UH-72A Lakota.
Videos of DP Ruto flying in the Airbus H145 Helicopter below.
By JOHN PAUL SIMIYU
Source-kenyans.co.ke