Woman whose eyes were gouged by gang speaks of the 12-hour ordeal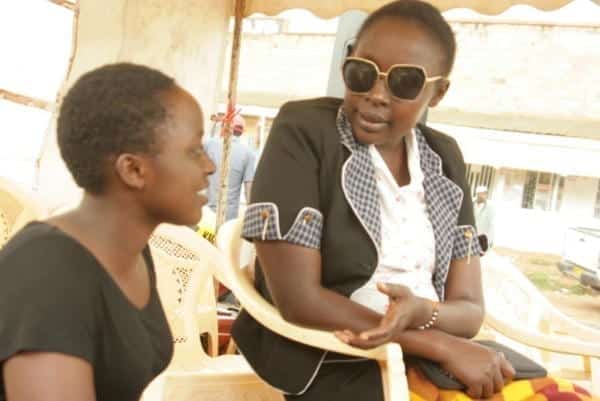 Woman whose eyes were gouged by gang speaks of the 12-hour ordeal: The monstrous attack on August 6, 2019 will haunt Norah Chepchirchir for the rest of her life.
In a diabolical act of brutality which has horrified residents of Eldama Ravine Town in Baringo County, unknown assailants deliberately blinded the mother of two and gouged out her eyes.
This week, Chepchirhir 32, bravely spoke about her hideous 12-hour ordeal as police continue with the hunt for perpetrators of the attack.Taking off her dark glasses to reveal her injuries, she sobbed: " This isn't the life I dreamed of when growing up. I miss everything. I feel like a ghost."
"I can clearly hear everyone around me, but I can't even see my own hand in front of my face."They robbed me of one of the most precious things in life," Chepchirchir says as a relative helps her to sit under a tree for the interview.She added: "I think the hardest thing is the fact that I am not going to see my kids' faces again."
Chepchirchir says worst is that her dreams of teaching is in jeopardy after the attack.After successfully completing her teaching studies at Meru Teachers Training College, she was looking forward to join the teaching fraternity in January next year.
Teaching having been her dream career, her desire was to help improve quality of education among learners back in her rural village in Boror, Eldama Ravine.But now her plans have changed.
With her Teachers Service Commission (TSC) number, Chepchirchir now has to undergo another course on braille at Machakos Institute for the blind. The system involves touch reading and writing, in which raised dots represent the letters of the alphabet.
It also contains equivalents for punctuation marks and provides symbols to show letter groupings." I now have to find a new way of doing things," Chepchirchir says as she takes us through her next step in life.
She is set to report to her work station in January next year. The TSC has allowed her to time to enroll for a six months course on braille.She has raised Sh30,000 out of the Sh45,000 required for the braille training.Baringo County Teachers Service Commission (TSC) Director James Nyakweba said Chepchirchir is a qualified teacher and shall be posted after undertaking braille training.
Nyakweba added that TSC shall too provide her with an assistant during her teaching practice."We need her to sharpen her braille skills for smooth service delivery," said the director.
Her children, aged 15 and 11 are equally learning new ways to interact with their mother as a result of the incident.Sharon Chebet, her first born child is a Form two student at Kapcheokoi Secondary School, she says they are slowly adopting to the situation."Although it is a little challenging, I'm getting used to waking up as early as 4 am to prepare for school.
I prepare meals for mum and my sister," Chebet says.The incident that made Chepchirchir blind happened when she was on her way to help her ailing elder sister at Green View Estate-located approximately 500 meters from their home in Kabonyon.
According to her, the assailants dragged her to a bush and drew a knife that they used to gouge her eyes out." Up to now I still do not know the motive of the attack. They mercilessly removed my eyes and left me in deep pain," She recalled. What still shocks her is that the incident happened just 500 meters to Eldama Ravine Police station.
Police officers on patrol picked her to Eldama Ravine Hospital but was referred to Rift Valley Provincial General Hospital for specialized treatment.A nursing officer at the facility's eye unit, Bernard Kimani, regretted that her sight is beyond repair.
She was taken for x-ray for lid repair and enucleation of both eyes."This is the worst eye problem we have encountered as a hospital because the entire eye content was removed," said Kimani.Chepchirchiri was also taken through counseling to accept her new condition as she was traumatised.
Her mother Alice Chematia is yet to come to terms with what happened to her daughter."All I have been asking is to just to understand the reason behind the attack. I hope and pray that those behind the attack will pay," said Chematia.Eldama Ravine County Police Commander Rashid Mohamed said main challenge in arresting criminals behind the act is lack of tangible evidence.
According to the police, file to the case is open."The victim says she is not aware; neither has a hint on who the culprits are. Nobody is also volunteering to share information on the matter," said Mohammed.
After the crime was reported, he said police linked up with detectives from Directorate of Criminal Investigations (DCI), Nakuru and several statements recorded, but they are yet to succeed in their mission of arresting the criminals.
By Mercy Kahenda
Source-standardmedia.co.ke