The Powerful Women Behind Margaret Kenyatta's Success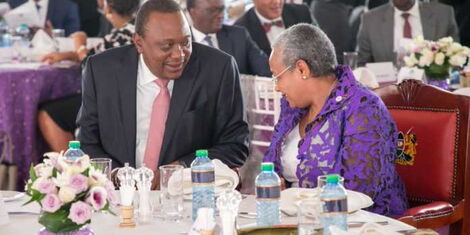 The  Powerful Women Behind Margaret Kenyatta's Success: First Lady Margaret Kenyatta is arguably the most impactful Kenya has had, if her projects are anything to go by.
She has been the face of the Beyond Zero campaign, joined President Uhuru Kenyatta on the trail inside and outside of the country, addressed conferences and done a host of activities, some of which are on record.
In her team, there are three women who run the show, making things easier for her as she goes about her day to day commitments.
Constance Gakonyo is the chief of staff. Unknown to many, the relationship between the two predates their official duties. Their fathers, Ben Gakonyo and Njuguna Gakuo, were close friends and close confidantes of Kenya's founding father President Jomo Kenyatta.
Margaret and Connie are also former schoolmates at the prestigious Kianda School.  The first lady was in the class of 1980 while her chief of staff was two years behind – in the class of '82.
Gakonyo is also a member of the Law Society of Kenya.
Vivianne Ngugi is Margaret Kenyatta's head of communication and press.
Ms Ngugi has managed to keep most of her social and work life private.
She is a product of Kenya High School, the University of Nairobi and Ohio Wesleyan University in America.
Ngugi has clocked ten years in public service working in public administration; five years in the private sector in strategic communications, public relations and events management; and twelve years as a development practitioner.
She has, among other activities been an adjunct lecturer at Daystar University, and a communications and partnership officer at the Canada International Research Centre.
Eva Maina is the deputy secretary at the office of the first lady, a post she has held for seven years.
She is skilled in the field of marketing, public relations, project management, team leadership, customer service organizational effectiveness, interpersonal communication.
She was the Executive Administrative and Events Manager at Coca-cola Central, East, and West Africa between 2011 and 2012.
She is believed to have been instrumental in Margaret Kenyatta's Beyond Zero marathons.
By JOHN PAUL SIMIYU
Source-kenyans.co.ke