Kenyan man running successful morgue business in Texas USA
 Kenyan man running successful morgue business in Texas USA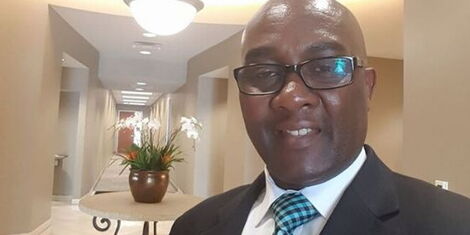 John Richard Ng'ang'a is a Kenya running a successful morgue business in Bedford, Texas US christened Bedford Memorial Funeral Home.
Featuring on Saturday, December 7 in an episode of The Chamwada Report, Ng'ang'a revealed that he first studied aviation before losing interest in flying.
"I actually came to do flying, I didn't follow it up. It wasn't my passion," Ng'ang'a an intimated.
"I ended up going to school, took some medical classes. Someone came to school on a career day talk to us about various career lines, he talked about forensic science and I ended up venturing into mortuary sciences. That's how I ended up in the funeral business," he revealed.
Ng'ang'a served in the corporate world for 19 years before he branched out to establish his own funeral home in December 2015, as indicated in company website www.bedfordmemorialfuneralhome.com
He has been in the industry for five years and handles about 300 cases annually.
While engaging Chamwada on how he started his business, the entrepreneur revealed that he did it solely using his savings and based his motivation on a quote by American billionaire Mark Cuban.
"Like Mark Cuban says, its only a moron that starts a business with a loan, if it doesn't work you still have to pay the loan. So I opened my business without a loan, but with only the money I had saved," Ng'ang'a stated.
Despite the success of his business, Ng'ang'a maintains a relationship with Kenya, intimating to Chamwada that he has even started an enterprise in Kenya despite the challenges facing startups in the country.
"I have different projects at home that I'm involved in. I just started a magazine in Kenya that is going to explore different areas and kinds of tourism and we are getting in touch with counties to support us, even if Kenya is hard to penetrate," Ng'ang'a stated.
"Living in the US, you will understand. You can walk in and have services handled in 10 minutes and walk away, in Kenya, you can chase somebody for days. It becomes discouraging," he added.
When quizzed on how he has managed to stay successful, Ng'ang'a explained that one had to have compassion and a good understanding of people.
"I've had people come here and start going off on me. It is an inborn thing. You have to be compassionate even to deal with people and you have to understand that. Otherwise, you will be upset every day," Ng'ang'a stated.
According to the company website, Ng'ang'a founded the funeral home in order to facilitate the needs of the middle class, single families, low income and senior citizens on a budget.
By providing flexibility, discount prices and providing unique customised services, Ng'ang'a has found success in the business.
Adding to the many services offered, the funeral home has an inbuilt chapel with a capacity of up to 70 people for bereaved families to conduct services and prayer.
"We have a chapel if the bereaved families don't have a church they can do their services here. If they have a church we'll head to the church and they can have their service there," Ng'ang'a shared.
"I want to tell Kenyans who are getting green-cards not to sell everything back home. Green cards don't give you the right to move away from home," Ng'ang'a advised.
"You can have a green card, come work for six months, go home for six months. You can live in both worlds and you will be a happy person. But you have to be reliable, dedicated, committed," he concluded
Source- kenyans.co.ke
Kenyan man running successful morgue business in Texas USA