97 Year Old Man Marries 30 Year Old Woman In Eldoret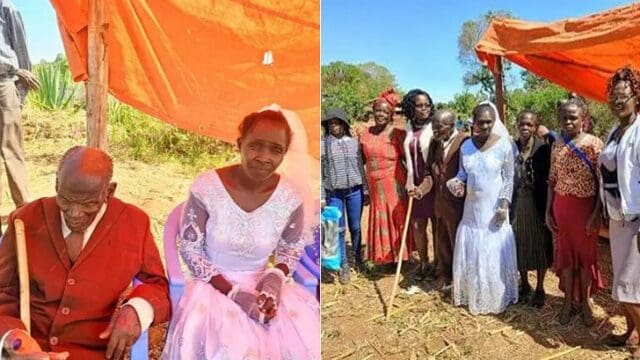 As the saying goes 'beauty lies in the eyes of the beholder' is comparative, and everyone seeks to be loved in one way or the other.
Concurrently, on matters love, age is just but a number. Those who have found themselves in the midst of the riddle, admit that the age factor has got nothing to do with love.
A recently united couple in Eldoret, Uasin Gishu County is not far from the reality of these sayings.
This is after a 97-year-old man last week decided to materialize the proverbial phrases by settling for a 30-year-old partner, who at best is about the age of his grandchildren.
What is even stranger is that this matrimonial union has been lauded by the old man's daughter.
Sally Cheps, made the revelation in a Facebook post, while at the same time thanking the bride, whom she only referred to as Alice.
"Wonders my father, who is 97 years old, weds Alice 30 years at Soy, Eldoret. Thanks, Alice, for caring for my father," the post read.
The post was accompanied with a photo of the newly-weds – the elderly groom in a brown suit with a walking stick and seated next to him the bride in a white wedding gown.
Sally Cheps has since posted more updates on her Facebook wall congratulating the couple.
"Lovebirds, agui congratulation Alice, thanks for accepting to be the bride to agui," one of the posts reads.
In Kalenjin, Agui refers to any elderly man the age of your grandfather or of the equivalent to the age of a parent.
The latest update with a photo, shows the aging man and his new wife in the company of some women.
The post has since elicited mixed reactions from online users, with some questioning the woman's motive in settling down with the man.
Source-https://nairobinews.nation.africa/
97 Year Old Man Marries 30 Year Old Woman In Eldoret