Betrayal: Firebrand Ruto Critics Are Now His Allies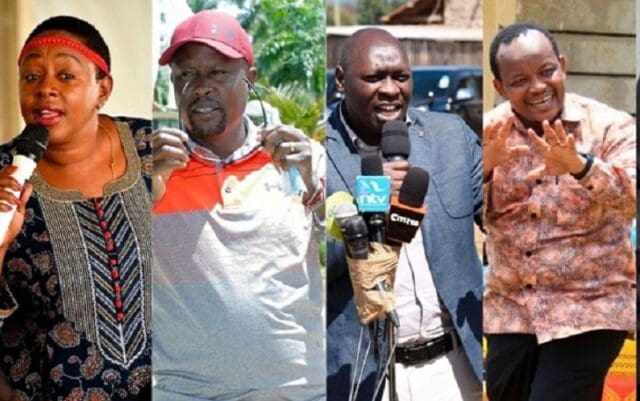 President William Ruto outsmarting his archrival Azimio La Umoja One Kenya boss Raila Odinga in August General Election has made him to enjoy support and allegiance from those who used to be his bitter political nemesis.
The politicians were firebrand critics of Dr Ruto when he served as deputy president and some of them did not even believe that he would win the presidency.
With Dr Ruto now Head of State and now holding key to development projects across the country, allies of Mr Odinga and former Head of State President William Ruto who were too vocal before the August General Election to discredit his candidature have now come out to pledge their loyalty to him.
The decision by Jubilee Party MPs and the former ones to announce that they will be working with Dr Ruto and his deputy Rigathi Gachagua, Mr Odinga and Mr Kenyatta have been abandoned by some of their trusted allies.
In the run up to the August 9 polls, Mr Odinga was encircled by key political players, senior government functionaries and business tycoons. They financed and campaigned for his presidential bid vigorously.
Some politicians rode on Mr Odinga and Mr Kenyatta's popularity to successfully rally voters for their individual bids for various seats.
East African Legislative Assembly (EALA)MP Kanini Kega who has come out to support President Ruto's administration is among the leaders from Mount Kenya who campaigned vigorously for Mr Odinga to succeed Mr Kenyatta, something which cost him his Kieni seat.
Mr Kega who is now coalescing around Dr Ruto and Mr Gachagua was one of the leaders who were allied to Mr Kenyatta who engineered the axing of the Head of State's lieutenants in various plum House leadership positions.
Mr Kega's loyalty to Mr Kenyatta made him to be appointed chairperson of the Business Committee in the National Assembly replacing the current Majority Leader Kimani Ichungwah.
But now, the former Kieni MP has decided to part ways with his once favorite leader Mr Kenyatta to work with Dr Ruto.
"We have asked our supporters, elected leaders and NEC members that since our party stands for peace, they should not participate in meetings which can disrupt peace we have continued to enjoy," said Mr Kega.
Others who were firebrand critics of Dr Ruto includes Jubilee Deputy Secretary General Joshua Kutuny, nominated MP Sabina Chege,Eldas MP Adan Keynan, Nakuru West MP Samuel Arama, former Nyeri Town MP Ngunjiri Wambugu, Isiolo Senator Fatuma Dullo, Laikipia North MP Sarah Korere among others.
In an interview, Ms Chege now says that President Ruto has since assured Jubilee elected leaders that he will respect them and Mr Kenyatta will not be persecuted in his retirement "and we are happy with that".
"Mr Odinga has a way of seeking handshakes after losing. But he uses people to achieve those handshakes but abandons them after he benefits. I have accepted we lost but I will not now go his route of using people to gain for himself alone," she said.
Mr Kutuny opposed Dr Ruto's presidency which made him to be labelled as 'rebel' in the Head of State's political bastion of Rift Valley which impacted him negatively by losing the Cherangany seat.
The former Cherangany MP yesterday disclosed that he communicated his decision to work with the current regime with Mr Kenyatta hence his act should not be viewed as 'betrayal'.
"I informed my Party Leader Uhuru Kenyatta that I will be going the other direction. Secondly, our supporters come from a region where the country's government enjoys dominance and they have been sending us messages that we need to have a conversation with the government so as to work together," Mr Kutuny told the Nation.
Ms Dullo added: "Sometimes we have to look at the people who elected us, not the matters of political parties."
The Central Organization of Trade Unions (COTU) Secretary-General Francis Atwoli was the biggest critic of President Ruto during the presidential campaigns and never believed that he would win the election.
So vicious was his opposition to Dr Ruto's bid that he frequently advised people in his (Dr Ruto) backyard Sugoi to cut down all the trees because he feared the president would die by suicide after failing to win the presidency.
During the campaigns, Mr Atwoli accused the president of allegedly being part of corrupt people who have looted the public funds.
"Those who are saying Ruto is a dictator are leaders in political space, let them talk because that is what they fought for. This current government has promoted free speech; the President has not castigated anyone for criticizing him," said Mr Atwoli recently.
Mr Ngunjiri who was also a critic of President Ruto has since changed tune saying that the United Democratic Alliance (UDA) honcho is presenting a work ethic and discipline that has not been witnessed before.
The former Nyeri Town lawmaker noted that delivering on key promises to the people who supported him during the electioneering period was one of the noticeable things Dr Ruto had done and must be commended. "
We have had a lot of people who have given political promises over the years since independence, and one of the things he (President Ruto) has done right is fulfilling the promises he gave," he said.
The remaining allies of Mr Odinga have described the defectors as mere opportunists and self-seekers with no principles.
Vihiga Senator Godfrey Osotsi says some of the politicians were engaging in shameless preservation of personal interests.
"Those are selfish leaders pursuing personal interests disguised as party or regional and community interests. Our leader Mr Odinga will lead us to reach the people directly. They will soon feel the heat because many ordinary Kenyans have lost hope with this Kenya Kwanza regime," said Mr Osotsi.
United States International University's (USIU) don Macharia Munene opines that Dr Ruto's critics who are now thronging his Kenya Kwanza camp are looking for political survival for the sake of personal aggrandizement.
"This is political survival tactics and since bread has been buttered in Ruto's camp, politicians will rush there so as not to be left out. They will claim that they are there mainly for their communities' interests but that is a typical lie. In most cases, politicians join the winning bandwagon hoping to benefit personally," said Prof Munene.
By Onyango K'Onyango
Source-https://nation.africa/
Betrayal in Diaspora: Saved from Deportation and no appreciation
Betrayal: Firebrand Ruto Critics Are Now His Allies