MADARAKA HOMES: Fastest Growing Real Estate Company in Kenya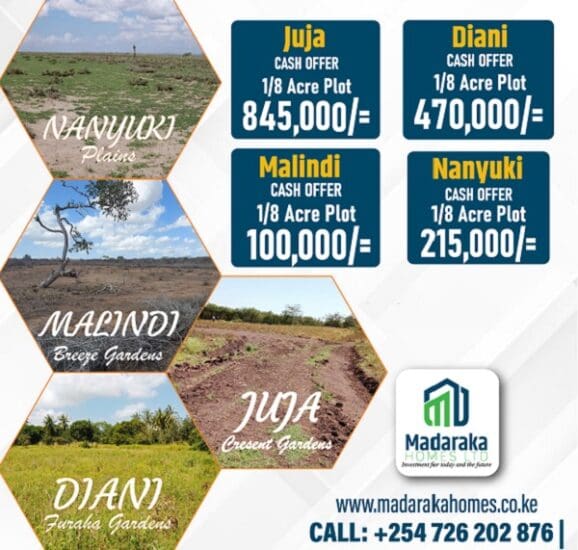 MADARAKA HOMES Limited is one of the fastest growing real estate company in Kenya.
Over the past months we've been consistent in our objective of contributing to the growth and
development of our country's economy as well as providing affordable lands in well developed
areas with a high potential for growth in value.
We offer affordable prices in our prime projects with flexible payment plans that make it easier
for our clients acquire property.
This enhances referrals and repeat purchases.
Madaraka Homes is a pre-eminent focused property company with a large, well balanced
portfolio comprised of residential, commercial and mixed-use properties.
It is renowned for its impressive selection of properties and timely delivery of its promises.
We pride ourselves in having successfully sold properties in Nairobi, Mombasa, Diani, Kilifi,
Malindi, Nanyuki, Nakuru and the surrounding areas and handed over the title deeds to the
respective owners.
We have a competent and professional workforce that has experience in finding the best land of
investment for you.
Madaraka Homes Ltd aims to connect you to affordable land of real value with access to social
amenities in prime areas.
Vision: To ensure that more Kenyans own property and make money out of it.
Mission: To make owning property a seamless, and easy process while ensuring we serve our
clients with trustworthy and affordable land.
MADARAKA HOMES: Fastest Growing Real Estate Company in Kenya