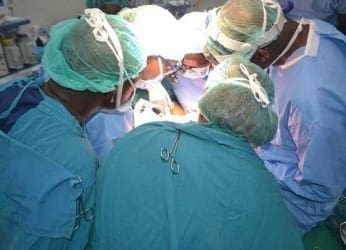 Doctors in Nairobi have heeded President Uhuru's directive to resume duty and are reporting to work. Nairobi County Health executive Benard Muia said on Sunday that a total of 10 doctors have resumed work in three of the level four county hospitals. Six doctors resumed work at Pumwani Maternity hospital, two at Mama Lucy hospital and another two at Mbagathi District hospital.
"A number of doctors in Nairobi have resumed work despite the ongoing medics strike and we are calling on the rest to emulate the same as directed by the President," said Muia. "We have no time to waste with striking medics because we have been patient with them and people have suffered enough, there are a lot of doctors who want to work in Nairobi and we will sack those on strike and vet others that are willing to apply," he added. In January, the county issued show-cause letters to the medics and withheld their salaries for participating in the "illegal" strike.
Muia said the medics who had resumed duty had complained to him that they were being threatened by officials from Kenya Medical Practitioners and Dentists Union (KMPDU). "Some of them came to my office and told me they were being threatened.
But I want to assure them we shall provide security for anybody who is willing to resume duty, thus they should not fear," added Muia. Last week, President Uhuru Kenyatta and the Council of Governors directed that any negotiations with the medics be halted and they should resume work or they are fired.
Consequently, the doctors through their union officials called for a last meeting with the government spearheaded by the clergy to enable them address a few issues as well as sign a return to work agreement.
The medics had stated that majority of the issues in the collective bargaining agreement had been agreed on and only the signing of the return-to-work agreement remained.
President Uhuru Kenyatta however declined any further negotiations with striking doctors and maintained that the doctors take the 40 per cent pay increment.
Source link- standardmedia.co.ke