Kiambu's Big Landowners Dump Coffee for Real Estate Boom
Kiambu's Big Landowners Dump Coffee for Real Estate Boom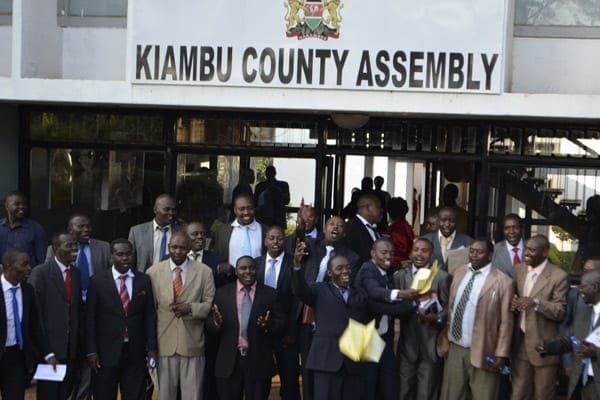 Kiambu's big landowners, who have made a fortune growing and exporting coffee on the outskirts of Nairobi, are opening up the farms for real estate development targeting the housing market's high level returns that have seen the value of land more than double in the past five years.
Top in the list of wealthy landowners who are converting their vast coffee estates into use for urban settlement is the family of Kenya's founding president, Jomo Kenyatta, former attorney-general Charles Njonjo and Kenyatta's cousin, Njoroge Mungai.
Also in the list of rich political families who have or plan to use the thousands of acres held as a stepping stone into the real estate market are the families of former powerful minister in Kenyatta government Mbiyu Koinange and James Karugu who succeeded Mr Njonjo at the State Law Office.
Kiambu, which is located on the western fringes of Nairobi, has the highest number of powerful families who have had tight control over vast tracks of land they acquired from British settlers at independence and whose value has appreciated more than a hundred times in five decades.
The Kenyatta family — which held thousands of acres farms around Ruiru — is converting part of the holding into a multi-billion shilling private municipality crafted in the style of Tatu City – Kenya's premier private city plan that was unveiled late last year but is held up by shareholder wrangles.
Declassified archive material show that Peter Muigai and Peter Magana — both sons of President Kenyatta — acquired 468 acres in Ruiru at less than Sh70,000 under the World Bank funded resettlement scheme that was to help Africans buy land occupied by white farmers at independence.
People familiar with the plan say this is the land that the Kenyatta family has earmarked for the private municipality to be known as Northlands City.
Sources familiar with the ambitious plan said the development is tipped to be the single largest real estate project in Eastern Africa. Initial estimates show that the real estate development is worth more than the Sh240 billion private municipality, Tatu City, which is backed by Moscow-based Renaissance Capital, former Central Bank governor Nahashon Nyaga and industrialist Vimal Shah.
Dr Mungai's family is reportedly planning its own entry into the real estate market with two separate developments in Magana and Limuru areas covering a total of 750 acres.
His in-laws, Senior Chief Koinange wa Mbiyu's and former attorney-general Charles Njonjo's families have similar plans on the cards for land held in Kiambu County.
Dr Mungai's brother, Ng'ethe Mungai, who served as Kenya's ambassador to the United Nations, is also seeking a strategic investor to put up a private golf course on a 600-acre parcel of land in Limuru that he acquired from St Paul's University.
In a new twist of events, the university has proposed to buy back the land for its expansion but its bids have failed in the face of high asking prices.
The Mungais are also in a separate joint venture with his brother to develop a multi-billion shilling mixed development on 150 acres in Magana around Kikuyu township featuring both residential and commercial property.
Mr Njonjo is said to be looking for investors for a planned joint venture to develop his 200-acre Runda farm.
His successor at the State Law Office, James Karuga, has also jumped into the property market bandwagon with a mixed use development on a 600-acre parcel of land.
President Kenyatta's in-laws in the Koinange family have sold 300 acres of their vast land previously under coffee plantation along Limuru Road to developers who have announced plans to put up prime property.
Listed investment firm Centum Holdings has, for instance, acquired 100 acres from the Koinange family next to the leafy Runda suburb on which it intends to put up a mixed use development targeting foreign missions and international civil servants.
Centum says the value of the land has more than doubled less than 12 months since it paid Sh1 billion for the parcel.
The Aga Khan Foundation also acquired an adjacent block of 200 acres to build a university while upcoming developers including Temus Apartments and County Developers are looking for land in the same location to build homes for sale.
James Mworia, the Centum managing director, says an independent valuation revealed that the two parcels of land that the company bought in the last financial year, including the one in Runda and another in Entebbe, had jointly appreciated by more than Sh1 billion.
"We made the acquisitions at very attractive prices and at the end of the year when we obtained an independent valuation the two parcels were a billion shillings higher than the cost price," he said.
Land economists say that the land owners are mainly responding to urbanisation pressure around Nairobi and its impact on demand for housing supported by enlargement of the middle class by rising incomes.
"The Kenyan economy has expanded, giving a lot more people the financial muscle to buy homes with the land owners as the ultimate beneficiaries," said Mwendwa Makathimo, a land economist.
"It is also possible that these families are using the opportunity to cut back on their land holdings to comply with the demands of the new Constitution," he said.
Nairobi's real estate boom has persisted in the past five years as the economy grew creating a newly rich class of homebuyers with fresh tastes and preferences who are dictating the shape of activity in the market.
This new class of homebuyers has showed a willingness to pay for value addition – a factor that is widely responsible for increased attractiveness of housing units with amenities such as common playing grounds, swimming pools and shopping malls.
Nairobi's developers have cited scarcity of land as the main driver of the property market boom that has seen prices rise more than three-and-half times since 2000.
Several posh housing estates have come up on the outskirts of Nairobi in the recent years but most of the land remains under coffee cultivation opening opportunities for joint ventures in property development.
Most visible ones include the Rosslyn Heights and W&K estate — both targeting high end of the property market.
Dan Awendo, the managing director at Investeq Capital and a partner at Migaa Estate says most of the landowners are looking to reduce their exposure in the land market in the view of proposed laws that have put a capping on how much land an individual can own.
"Some of the land owners have been forced to seek exit routes since the new laws have limited ownership for non-citizens to only 99 years," he said.
Mr Awendo argues that enactment of the new land laws through the yet-to be formed National Land Commission is only a few months away.
It is expected that the laws will make it costly to own idle land and even allow for repossession of underutilized land by the State.
Mr Awendo gave the example of that Migaa Estate's 776 acres that the investment club acquired from prominent family, which had in turn acquired it from international tea and coffee company, Finlays.
The Constitution in Article 68 also allows Parliament to legislate on the maximum acreage that individuals can own, an issue that could see holders of huge tracks of land lose part of it to allow for equitable distribution as would be prescribed in the laws.
Robert Bunyi, an investment advisor and managing director at Mavuno Capital says that returns from real estate by far outstrips those from coffee and tea farming contributing to the replacement of plantations with housing projects.
He says that even the smaller land owners were now taking on sizable project enabled by the entry of strategic investors who provide the funds for development.
"Individuals who are little-known are now handling very large real estate projects besides the big names in the market," said Mr Bunyi.
Rising property values over the past decade means that the entry of these families into the real estate sector essentially multiplies their wealth, cementing their profiles as among the richest Kenyan families helped by sharp appreciation of the land that they own.
This is especially so considering that the respective households controlled huge tracks of land running into thousands of hectares under coffee cultivation but the farms are now steadily being replaced by new investments in property targeting the high income earners.
As an illustration, land sellers are asking for about Sh16 million for an acre of land in Paradise Lost, some 20 kilometres from Nairobi and the prices tend to be even higher closer to the city according to Peter Mukoma, the managing director of Ideal Property Agents.
But the new-found wealth amongst these landowners could perhaps best be illustrated in the recent drama relating to the Fourways Junction estate pitting a director against her peers over control of Muga Developers- the company building the Sh30 billion worth estate along Kiambu Road.
Thanks to an out-of-court settlement, Mrs Nancy Gatabaki, a director of Muga Developers joins the ranks of the wealthiest women in Kenya after receiving Sh725 million in cash and houses to forfeit her stake in the company.
All the while, the final settlement is far from the Sh5 billion she had demanded in her initial application as value for the 100 acres contribution to the project, placing the asking price for an acre of land at Sh50 million.
Mr Makathimo- who is also the managing Vidmerck Limited, a property management firm says that the decisions by the wealthy families to open up their estates to property development could also be linked to a new regulatory framework drafted to discourage under-utilization of land.
"They could be trying to avoid punitive legislation which increased the costs of holding prime land that could generate more utility" he said.
abaki Wamwea, a director at County Developers says that rising income levels promises to generate new demand for homes in the foreseeable future, predicting more farmland was set to change use to property development.
"What we are witnessing are effects of a strong demand for homes that will keep pushing out the boundaries of the city to take up more farmland for the property development," said Mr Wamwea, whose firm is putting up a middle-income estate in Ruaka.
Source- http://www.businessdailyafrica.com/Corporate+News/Kiambu+s+big+landowners+dump+coffee+for+real+estate+boom+/-/539550/1235270/-/5pwcxd/-/