Mwai Kibaki bestowed with prestigious Honorary Degree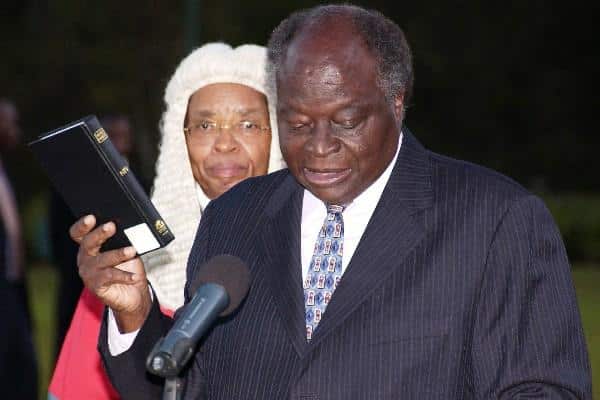 President Mwai Kibaki was Tuesday bestowed with the prestigious Honorary Doctor of Laws (Honoris Causa) of Makerere University.
The Honorary Doctorate was conferred upon President Kibaki on a special convocation of the 62nd Congregation of the University of Makerere held at the Freedom Square of Makerere University.
The Honorary Doctorate was conferred on President Kibaki in a colorful ceremony which was graced by President Yoweri Museveni of Uganda and presided over by the Chancellor of Makerere University, Professor Mondo Kagonyera.
The Chancellor hailed President Kibaki for his distinguished academic and leadership achievements, his contribution to public life, his laudable educational, economic and political reforms as well as affirmative actions taken to empower women across social and political spheres.
In the citation justifying the conferment, the Orator, Professor Bantebya Kyomuhendo, noted that the Honorary Doctor of Laws was awarded in recognition of President Kibaki's distinguished contribution to public life at national, regional and international levels.
Professor Bantebya lauded President Kibaki for his exemplary performance in education noting that he excelled with distinction at all levels of education most notably in Makerere University where he graduated with a First Class Honours Degree in Economics and the London School of Economics where he set the record of being the first Kenyan to be awarded a first class honours degree in Economics and Public Finance.
Prof. Bantebya further noted that President Kibaki has one of the longest and most distinguished careers in public service having started as an Assistant lecturer at the Economic Department of Makerere University before becoming the Chief Executive Officer of the Kenya African National Union (KANU) from 1960 to 1962.
On political leadership, Prof. Bantebya noted that President Kibaki began as an Assistant Minister of Economics, Planning and Development in 1964, Minister of Commerce and Industry in 1966 and Minister of Finance in 1968.
She noted that President Kibaki served as Kenya's Finance Minister for 14 years during which period he earned the reputation of being one of the most successful ministers of finance in Africa.
To crown his political career, President Kibaki, she further noted, served as the Vice President of the Republic of Kenya for ten years before he was elected President of the Republic of Kenya in December 2002.
Speaking during the ceremony, President Museveni of Uganda described President Kibaki as an intellectual giant whose leadership has laid a firm foundation for the social, economic and political transformation of the country.
He congratulated President Kibaki on the conferment of the Honorary Doctor of Laws noting that during his leadership, Kenya has undergone a transformation epitomized by the promulgation of the new constitution in August 2010.
In his acceptance speech during the occasion, President Kibaki noted that the event has triggered a deep sense of nostalgia of the many days he studied and lectured at Makerere University saying the institution was a place where his academic and intellectual foundations were laid.
Said the President, "Many of my leadership skills were developed and nurtured here. Now, fifty two years after my departure from Makerere, I reflect with gratitude on my long career, starting here as an Academic, continued into politics and public service in Kenya, and culminated in my election by the people of Kenya as their President."
Saying he shall cherish the award for the rest of his life, President Kibaki observed that the award was a great honour not only to him and his family but to the nation of Kenya.
He added that the honour bestowed on him is also reflective of the cordial relations the people of Kenya continue to enjoy with the people of the Republic of Uganda.
Said the President, "Our ties are made stronger by being rooted in a shared sense of common destiny, helping us to strive together for the greater good of our people and our region. Indeed Uganda is the number-one trading partner with Kenya and therefore we cannot take for granted this cooperation as we collaborate in many areas."
Noting that the wave of independence was blowing across the African continent during his time as a student and lecturer at Makerere University, the Head of State said education provided the basis of challenging colonialism and preparation for independence.
In this regard, President Kibaki pointed out that like in the early days of independence when universities were tasked with the responsibility of producing a workforce for building of the newly independent states, today the same institutions have the important task of training human resources required in political, economic and social transformation of the African continent.
He, therefore, expressed hope that young people in the East African region and Africa at large would play their rightful role in nation building by putting their countries interests above selfish ambitions.
The President, at the same, commended Makerere University for demonstrating its mastery in science by way of developing an electric car and expressed hope that such ideas will not be stored away in workshops and laboratories.
Calling on other institutions across the region and the continent to emulate Makerere University, the Head of State expressed his belief that the enormous challenges facing Africa can be solved by a careful mix of home grown and borrowed solutions.
In this connection, President Kibaki urged institutions of higher learning to take lead in this process, noting that the African transformation will be faster when entrepreneurship and technological innovation form the cornerstone of universities major activities.
President Kibaki emphasized that Africa has no choice but to industrialize as a way of transforming its economies and improving the livelihoods of its people in the shortest time possible.
He, therefore, called on entrepreneurs to commit their capital to ensuring that African scientific and technological innovations are developed into mass products for the regional and global markets.
The Head of State expressed his desire to work closely with Makerere University in the advancement of knowledge and innovations, as well as in supporting the university to enhance its partnerships and collaborations with industry and other institutions of higher learning in the region.
Source-http://www.kbc.co.ke
Mwai Kibaki bestowed with prestigious Honorary Degree