Mutula displays 'ideal' skirt length two inches below the knee

Mutula displays 'ideal' skirt length two inches below the knee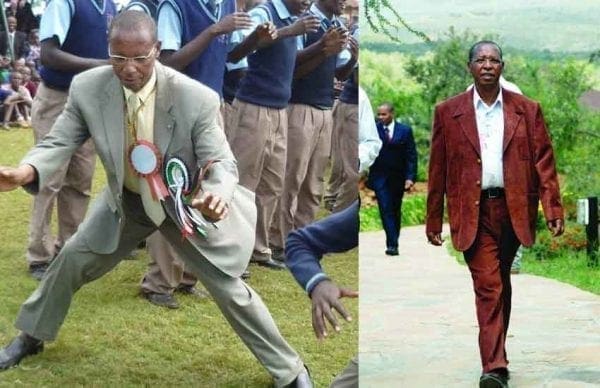 NAIROBI, Kenya, Jul 26 – Education Minister Mutula Kilonzo on Thursday displayed a model skirt for schoolgirls following a controversy where he was quoted as saying they should be allowed to wear miniskirts.
The Minister exhibited a skirt that would drop about two inches below the knee and said that was the right size for schoolgirls.
He said the Ministry had resolved the impasse at Rwathia Girls High School in Murang'a who had gone on strike protesting a decision by the school to introduce new uniforms.
"Once the ministry intervened and we brought both the school and the students together they settled for a length which is now acceptable both to the girls, to the school administration and to the parents. The school was insisting on a skirt going down on to the ankle, the settlement now is five inches shorter," he said.
The Minister reiterated that school managements have to learn to consult widely on matters that touch on the welfare of the students.
"I must admit that we have treated these young children very unfairly because the debate that has erupted has created an impression that Kenyan school children were asking for miniskirts and they were not. But I am a Christian so I forgive very easily; I have forgiven everybody so that we can move forward," he stated.
On Sunday, the Minister said he had no apologies to make over his remarks saying church leaders who had demanded an apology from him 'misunderstood' his statement.
Kilonzo had said school girls should not be dressed like nuns which led to the Catholic Church demanding that the Education Minister retracts what it termed as a derogatory statement over nuns' dressing.
"Tell the bishops I have no apologies to make, because I love nuns and their uniforms but they are not my objective in education," he said on Capital FM's current affairs talk show, Talk360.
Meanwhile, the Minister has urged ministry officials to take ICT seriously and use it in their everyday work.
He said this was the only way to ensure that service delivery was efficient, cost effective and satisfactory to the ministry's clientele.
Speaking when he handed over iPads to senior managers at the ministry and also opened a new state of the art boardroom, he said managers would from now on be required to use Ipads to enhance email communication to reduce paper work and time wastage in decision making.
"Today we are witnessing a more spacious, artistic and beautifully furnished ultra modern boardroom fitted with a multi media system to facilitate effective communication, a hotspot of wireless network is provided to ensure that officers transact official business with ease during meetings," Kilonzo said.
"If one is working in the Ministry of Education and they are not computer literate, they should either go and study or they will be looking for trouble," he warned.
He also called upon all schools to adopt ICT in order to transform education through technology integration.
"I expect by the end of the year to have put on the ground mechanisms for reporting by all schools in the country. We will be having a serious workshop on 24 August at which we will be asking all the stakeholders particularly the optic cable that it be made as near to all schools as possible so that we can cut the cost of communication as we prepare for e-learning in the future," he informed.
Source:capitalfm.co.ke