Kenyans Missing In Africa's Top 10 Richest Musicians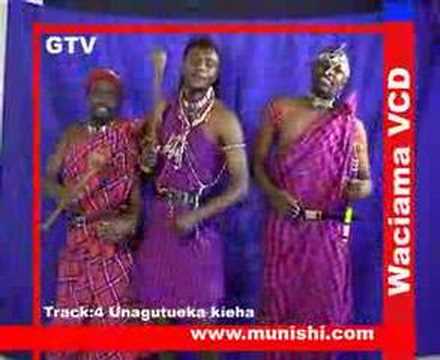 10. CHAMELEONE
Joseph Mayanja (born 1979) known for his stage name Jose Chameleon, Joe Chameleon, Jose Chameleone, or just Chameleone (sometimes Chameleon) is a reggae musician from Uganda. He mainly sings in Luganda, English and Swahili.
Jose Chameleone has become a pop idol in Africa with several of his songs popular on radio, in bars and clubs all over the continent. Several of his songs have turned into popular phrases such as Basiima Ogenze, Shida Za Dunia, Nekolera Maali among others. He is generallycredited with the rejuvenation of popular local music in Uganda at the turn of the 21st century.
The Valu Valu singer is the biggest money maker in Eastern Africa and has a fleet of fuel guzzlers as "testimony" to this which include; Cadillac escalade, Mercedes Benz ml 200 super custom convertible and a Premio. He also owns a big mansion in Seguka hills in the outskirts of Kampala where the elite class of Uganda resides.
9. BANKY W
Olubankole Wellington (born March 27, 1981), known under the stage name Banky W, is a Nigerian R&B artist. If u like u can also call him Mr. Capable for he belongs to #TeamHardWork. This Nigerian born R&B musician does 3 to 4 shows per week. He has been a brand ambassador for Estisalat mobile in n Nigeria and currently he is the face for Samsung products in the west African nation. He is also set to be one of the judges for Channel O Vj Search that will be hosted in Lagos, Nigeria. With his generous heart Banky W has started a charitable organization known as Mr capable foundation to aid in the education of children from poor families.
8. HUGH MASEKELA
Hugh Ramopolo Masekela (born April 4, 1939) is a South African trumpeter, flugelhornist, cornetist, composer, and singer. He is the father of American television host Sal Masekela and for a long time now,one of the most respected jazz artists from Africa. In 1968, Masekela got a Grammy Award nomination under the category "Best Contemporary Pop Performance – Instrumental". His other honors include; Order of Ikhamanga: 2010 South African National Orders Ceremony, 27 April 2010, Ghana Music Awards: 2007 African Music Legend award, 2005 Channel O Music Video Awards: Lifetime Achievement Award, 2002 BBC Radio Jazz Awards: International Award of the Year, ominated for Broadway's 1988 Tony Award as Best Score (Musical), with music and lyrics collaborator Mbongeni Ngema, for "Sarafina!". Masekela owns a professional studio in Botswana, and makes good money on invitations to major festivals across the world and the sales of his albums.
7. 2 FACE IDIBIA
Innocent Ujah Idibia (born in Jos, Plateau State, Nigeria), or better known by his stage name 2Face Idibia, is a Nigerian singer-songwriter, actor and record producer. He was a member of the defunct R&B/hip hop group Plantashun Boyz. 2 face has 5 Albums out and has won 40 Awards to date, and received only 6 other nominations where he did not win. The 'African queen' crooner has a vast investment in real estate across Nigeria, makes$50k to $80k per show and owns a night club in Nigeria.
6. FALLY IPUPA
Fally Ipupa is a singer-songwriter from the Democratic Republic of the Congo. He was part of the band of Koffi Olomidé, Quartier Latin International, from 1999 to 2006 before starting a solo career. His first solo album was Droit chemin released in 2006, and his second album Arsenal de Belles Melodies (A2BM) was released in 2009. In 2007, Ipupa won the Kora Awards for Best Artist or Group from Central Africa. In 2010, Fally Ipupa won the MTV Africa Music Awards 2010 for Best Video (for Sexy Dance) and Best Francophone. This former back up singer for Koffi ollomide is credited for modernizing Lingala music. He is a poster boy for a variety of clothing brands in Paris, where he performs at sold out shows, making millions of dollars.
5. SALIF KEITA
Salif Keïta (born August 25, 1949) is an afro-pop singer-songwriter from Mali. He is unique not only because of his reputation as the "Golden Voice of Africa" but because he has albinism and is a direct descendant of the founder of the Mali Empire, Sundiata Keita. This royal heritage meant that under the Malian caste system, he should never have become a singer, which was deemed to be a griot's role. He is known for his distinctive voice and  abroad they simply call him the African jewel. Salif is a very humble dude despite his riches. The albino musician from Mali has his own island and some real eastates in France.
4. KOFFI OLLOMIDE
Antoine Christophe Agbepa Mumba, also known as Koffi Olomide (Friday, July 13, 1956), is a DR Congolese soukous singer, dancer, producer, and composer. He is also known by a multitude of other names and aliases.  This veteran Congolese musician has released seven albums which have done well in the market and the maestro reportedly charges about 100,000 euros per show. Olomide's album Haut de Gamme: Koweït, Rive Gauche is listed in 1001 Albums You Must Hear Before You Die. In March 2003 Olomide released "Affaire D'Etat", a double CD album featuring 18 tracks. Koffi, who mostly refers to himself as Mopao, has a  release known as La Chicotte a Papa, having recently excelled in hits like Cle Boa, Lovemycine, Diabolos, Grand Pretre Mere and Soupou, among others. Today, Mopao is the undisputed king of romantic rhumba. Not only that, he is widely accepted as one of Africa's biggest and most successful musicians today.
3. D BANJ
Dapo Daniel Oyebanjo (popularly known as D'banj, born June 9, 1980), is a Nigerian singer-songwriter and harmonica player. He has won several music awards including the awards for Best African Act at the MTV Europe Music Awards 2007,  Artist of the Year at the MTV Africa Music Awards 2009. and BET Awards of 2011 for Best International Act; Africa. He adopted the stage name D'banj, a combination of his first name Dapo and his surname Oyebanjo. D'banj is currently best known internationally for his 2012 summer hit "Oliver Twist", an uptempo dance fusion of Afro-Beats and electronic dance music that topped the African charts 2011 and was a top 10 hit in the UK singles chart in 2012 reaching #2 on the UK R&B chart.
The koko master is his other moniker. D banj is the first African signed to Kanye wests label good music. It is reported that the flamboyant musician from Nigeria made a whooping $5 million  as a campaigner for President Goodluck Jonathan.  He has a series of high end clubs in Nigeria known as koko lounge and his own line of mineral water i.e koko water. D banj also made $1 million dollars when he was paid by a T.V station to star on his own reality show called the koko mansion. He has a crib in Atlanta worth $1.5 million and reportedly charges about $100000 per show currently.
2. P-SQUARE
P-Square are a Nigerian R&B duo composed of identical twin brothers Peter and Paul Okoye. They produce and release their albums through Square Records. In December 2011, they were also signed to Akon's Konvict Muzik label. In May 2012, they also signed a record distribution deal with Universal Music South Africa. This konvict music signed twins duo of Peter and Paul okoye currently make about $250,000 per show and the fellers have been booked up to March 2013. Their crib, titled squireville located at Ikeja is worth $3 million they also have a 3 years deal with Nigeria leading telecommunication company Globalcom as brand ambassadors where they are paid a million dollars a year.
1. YOUSSOU N'DOUR
Youssou N'Dour ( born 1 October 1959) is a Senegalese singer, percussionist, songwriter, composer, occasional actor, businessman and a politician. In 2004, Rolling Stone described him as, "perhaps the most famous singer alive" in Senegal and much of Africa. Since April 2012, he has been Senegal's Minister of Tourism and Culture.
N'Dour helped to develop a style of popular Senegalese music known in the Serer language as mbalax, which derives from the conservative Serer music tradition of "Njuup" He is the subject of the award-winning films Return to Goree directed by Pierre-Yves Borgeaud and Youssou N'Dour: I Bring What I Love directed by Elizabeth Chai Vasarhelyi, which were released around the world.
He is the richest musician in Africa; owns the biggest media house in Senegal which has radio stations and TV stations he also has some big time investments in real estate. This legendary African musician with his one of kind voice also at one time served as Senegalese cultural ambassador.
By: Dj Prince Kenya
Source:nairobiwire.com
Kenyans Missing In Africa's Top 10 Richest Musicians