ICC prosecution put on the spot over witness hitches
ICC prosecution put on the spot over witness hitches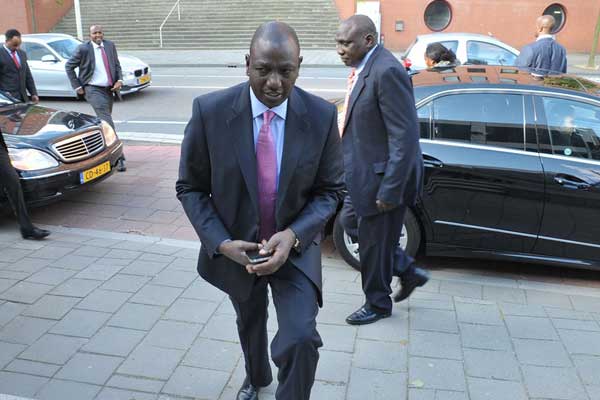 Kenya: The prosecution in The Hague was Thursday put on the spot for failing to disclose to the defence why some witnesses were not showing up to testify against Deputy President William Ruto and his co-accused Joshua arap Sang.
This comes even as the ninth witness failed to turn up at The International Criminal Court. On Thursday, Ruto's counsel Karim Khan and his counterpart for Sang, Katwa Kigen, turned the heat on the prosecution, insisting the reasons could border on the credibility of the witnesses.
"Certain witnesses in this case may well be part of a deliberate plan to mislead," said Khan. "There is no reason why a witness who has been warned to attend, has agreed to attend and has been scheduled to attend, does not attend," he added. Khan said the prosecution led by Anton Steynberg should explain why the ninth witness, identified by the pseudonym 452, had not shown up.
His sentiments were echoed by Mr Katwa who maintained some of the reasons may border on witness integrity. But Mr Steynberg downplayed the blame, insisting that most of the witness failures were as a result of witness management issues. "Most cases are as a result of witness management issues. For instance, a witness may have a sick child or may have to prepare for the start of school year and therefore unwilling to travel.
In those cases, we submit that the prosecution should not be ordered to disclose information," he said. The two Kenyan cases, including that of President Uhuru Kenyatta, have been characterised by witness hitches. The case against Ruto and Sang did not kick off on Monday as schedule due to a witness hitch. Ruto is expected to fly to The Hague at the weekend after the return of the President from Angola where he attended a summit of Heads of State and Government of the Great Lakes Region on Peace and Security.
Meanwhile, International Criminal Court ( ICC) Prosecutor Fatou Bensouda has hinted that she may appeal the Trial Chambers' decision excusing Deputy President William Ruto from most of the court sittings.
-standardmedia.co.ke