Shebesh to Kidero: I'll not forgive you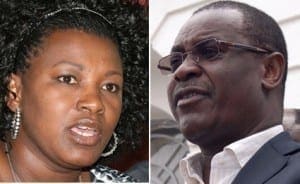 NAIROBI, Kenya, Jan 26 – Nairobi Women representative Rachel Shebesh now says that she will not forgive Governor Evans Kidero for 'slapping her' and will instead continue with her bid to have him prosecuted.
Speaking at a Church service in Nairobi's Dandora estate on Sunday, Shebesh stated that what Kidero did was not just an affront on her but to all the women in Kenya.
She wants him to "stop sending brokers to seek forgiveness on his behalf, and instead prepare to defend himself in court."
"I don't have to be taught forgiveness by brokers who are telling me to forgive Kidero. My mother is the one who taught me forgiveness and I know how to forgive," she said. "Women are the best forgivers but you know what happened to me did not happen just to Shebesh. It is an affront to the women of Kenya."
Nairobi Senator Mike Sonko who was also present at the church service urged the two leaders to reconcile and focus more on service delivery to city residents.
"We were not voted in so that the Governor can show us drama on how best he can slap a woman," Sonko said at the church service also attended by Deputy President William Ruto. "We were also not voted in so that women can go to the Governor's office so that they can start making noise."
While declaring that he is not a broker, Sonko said: "Nairobi is bigger than anybody, and that is why I am asking them to reconcile."
Petitions filed separately by Kidero and Shebesh seeking to block prosecution are pending, after the High Court extended conservatory orders until February 7 when further directions will be issued.
Justice David Majanja also consolidated the two applications which will be heard next month when the politicians will be required to explain why they should not face separate charges for assault and creating disturbance.
The Director of Public Prosecutions wants Kidero charged with assaulting Shebesh, who will also face creating disturbance charges following last year's altercation outside City Hall.
Shebesh, through lawyer Cecil Miller, has indicated she is ready to face prosecution and wants Kidero to also face the law.
The applications pending in court were filed after seven days given to the two leaders to reconcile elapsed.-capitalfm.co.ke