I'll stop at nothing to develop Ukambani-Mutua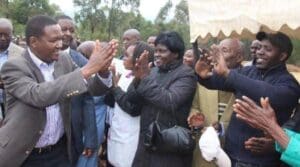 NAIROBI, Kenya, Aug 9 – Machakos Governor Alfred Mutua says he is not interested in fighting for political supremacy in Ukambani but engaging in politics of development and the reduction of poverty among his people.
Mutua said there was no romance in poverty adding that political leaders from the region were panicking due to his development strategies should "relax."
"Some leaders are saying that I am dividing the Kamba community due to my style of politics. I want to tell them that my development agenda will go on whether they like it or not since I am with the masses," Mutua said.
He said Ukambani has lagged behind in terms of development due to selfish leaders whose aim was only to entrench them politically.
"I have no time fighting for power to become a tribal kingpin. My agenda is to see that our people have water, good roads and hospitals so that they live in dignity," Mutua said.
Mutua who spoke to Capital News after commissioning a borehole in Kivaani, Kangundo Sub-county, told off critics of his Sh2.5 billion water program terming it a game changer in Ukambani politics.
He said the critics were only interested in chest thumping and had nothing to offer the electorate.
Machakos Senator Johnstone Muthama, one of his harshest critics, has alleged that the water program was a political project.
Political loser in the gubernatorial elections and former Kathiani MP Wavinya Ndeti and who was trounced by Mutua in the 2013 elections has also joined the fray terming the program a, "hoax."
In a rebuttal, Mutua said the politicians were afraid of the wind of change blowing across Ukambani, which would render many opportunistic politicians irrelevant.
"These politicians keep saying they are fighting for the Kamba community yet they know that they are only interested in filling their own stomachs. Their time is up," Mutua said.
He said his government was committed to improving the lives of Machakos County residents and he would not engage in empty politics.
Mutua said he was instead focused on initiatives that would spur development in Machakos.
"I have no time for political sideshows that will not improve our roads or provide water for our people," Mutua said.
He said that he was also committed to his, "Maendeleo Chap Chap," ideology which aims to transform the county.
Apart from commissioning the Kivaani borehole, Mutua also officially opened the Kizimani Health Clinic in Kivaani which has been built and equipped by well wishers from the USA.
He said the Kivaani Health Centre will be equipped with modern equipment and have modern wards built.
He said the Kangundo -Mwala road will be tarmacked from October and modern market sheds erected for traders.
Mutua said time was ripe for our leaders to embrace progressive politics instead of empty rhetoric.
He said those claiming that he was dividing the Kamba community by working with the national government were misleading the electorate.
"My mission is to break the yoke of poverty that has hindered growth in Machakos. This is my pledge to the people who elected me," Mutua said.
-capitalfm.co.ke