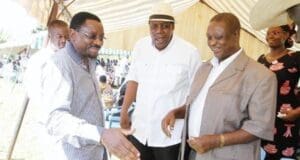 A section of youthful Orange Democratic Movement ( ODM) MPs have come out and boldly warned that party leader Raila Odinga may lose the 2017 elections because he is surrounded by deceitful advisors.
The team, mainly comprising of MPs from South Nyanza, claimed the 'advisers' have been purporting to assist the former Premier in making decisions but with selfish interests at heart. They also accused them of denying their colleagues from Luo Nyanza an opportunity to contest for the post of ODM secretary general. Several members of the party have announced their interest in the seat.
The MPs who included Millie Odhiambo (Mbita), Silvance Osele (Kasipul Kabondo), Agostino Neto (Ndhiwa), Ken Obura (Kisumu Central), John Mbadi (Suba), Ken Okoth (Kibra) and David Ochieng (Ugenya), condemned the "inequities" they were experiencing in the party ahead of the February polls. It is the first time the disgruntled MPs are raising their concerns regarding the issue in the open.
Speaking during the burial of Dina Owuor, Neto's stepmother, at Kabuoch Karading in Ndhiwa Constituency, the lawmakers argued that contributions of some of the people who are close to Raila were the genesis of tribulations ODM has faced in previous polls. Among the accused are Homa Bay Senator Otieno Kajwang' and nominated MP Oburu Oginga, who is Raila's elder brother. DESIRED OBJECTIVES The legislators said ODM will not achieve the desired objectives if the old guards were left to advise Raila. "We accept that Oburu is Raila's eldest brother but let him stay away from party polls. Let Kajwang' also be out to enable the party have people who will advise Raila on what can strengthen ODM," Obura said.
In his response, Oburu said the youthful MPs should respect them because they found them in ODM. "They found Raila, Kajwang, me and others in ODM. If they are saying that we lost the last elections because Raila was misadvised, then they were part of the problem," Oburu said.
He further said the youthful MPs have been attending ODM consultative meetings and that they talk to Raila directly.  "They should stop using old tactics whenever someone differs with them," he added. Oburu further stated that he does not talk politics when he is with his brother at home but family affairs. "I only talk about ODM affairs in meetings and in public rallies. Right now I have no time to talk about ODM polls because I am busy preparing my father's memorial," he added. He said ODM should come out with a national outlook after the February polls.
"Raila helped them but now that he has differed with them on the secretary general's seat, they want to drag others into their problems," he stated. Efforts to reach Kajwang' for a comment were fruitless, as his phone went answered. Speaking in Ndhiwa, Mbadi claimed that he advised Raila to ensure the party puts more efforts for free and fair nominations ahead of the last General Election but some advisers ignored his opinion. "I told Raila in Naivasha that he was just a few inches away from State House but the only remaining thing was to conduct a transparent party nomination.
However, some of my then fellow MPs came and dismantled my advice and everybody witnessed what happened," Mbadi said. Okoth accused the old guard of giving Raila advice that portrayed him as a tribal leader. Neto and Millie vowed to condemn all wrongdoings in ODM and instill honesty so that the party achieves victory in 2017. "We are tired of telling our people that our votes were stolen after every General Election," Neto said.
-standardmedia.co.ke