More than 100 police officers to be vetted
More than 100 police officers to be vetted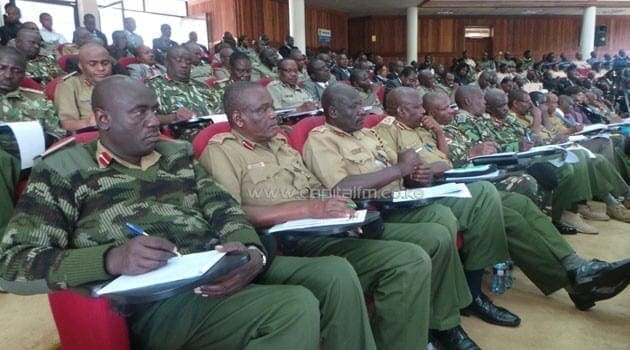 NAIROBI, Kenya, Feb 19 – More than 100 senior police officers are set to undergo vetting in the third round scheduled to start on March 3.
National Police Service Commission (NPSC) Chairman Johnstone Kavuludi says the officers in the ranks of Assistant Commissioners and Senior Assistant Commissioners of Police will undergo vetting just like their seniors as part of police reforms.
While refuting claims that there were disagreements among the members of the commission, he reiterated his earlier assurance that the exercise will be free and fair.
"The vetting process is not about (IG David) Kimaiyo, it's not about Kavuludi either…it's about our exercising our mandate and implementing the law," he stressed.
"Vetting is not an exercise, it is a process."
He added: "The objective of the exercise was to assess the individuals within the service; to ensure they are suitable and competent to serve in the National Police Service."
Through the exercise also, Kavuludi said, the vetting team would "like to ensure officers uphold and deliver on the values and principles of public service as enshrined in the Constitution."
The exercise is also meant to enhance professionalism within the police service.
"We would like to go through this process to determine who remain and who may not have the pressure to remain, so that we can determine who may be suitable to be appointed to what position," he said.
He said officers will be either be promoted or assigned duties as per their qualifications and abilities.
"The issues at hand are not about individual survival, it is not about an individual officer; it is about your readiness after you have been determined suitable to participate in applying the new service standards, using that opportunity in coming up with new better ways of working that will be consistent with international standards," he said.
In the third phase, 166 senior officers will be vetted.
The commission had earlier announced that the third phase would start on February 14 and end on March 8.
Four panels chaired by a member of the NPSC will undertake the exercise.
Kavuludi denied disagreements within the commission had caused the delay. He explained the process of preparing the officers' vetting was more engaging compared to the other two phases.
Speaking while briefing officers set to be vetted, Inspector General of Police David Kimaiyo assured the officers that the vetting is meant to restore confidence, while rooting out those who fail the test.
He however urged the officers to wipe out all elements of corruption, in a bid to better their services to the public.-capitalfm.co.ke