Raila, Lupita, Adongo to lead Boston marathon fete

Former Prime Minister Raila Odinga is set to lead Kenyans in this year's marathon celebrations in Boston.
The former PM said he was also invited to a dinner hosted by the Massachusetts Governor Deval Patrick in honour of Kenyan athletes who have won the Boston marathon over the years.
Mr Odinga also revealed that an invitation had been sent to Lupita Nyong'o, the first Kenyan to win an Oscar.
"We have sent an invitation to Lupita to come and join us and I hope I will see many of you there," he told a church service at St Stephens church in Lowell, Massachusetts on Sunday.
Kenyan star, Daniel Adongo, the first Kenyan footballer to be signed up for the National Football League (NFL), is also expected to join Kenyans in Boston for the celebrations.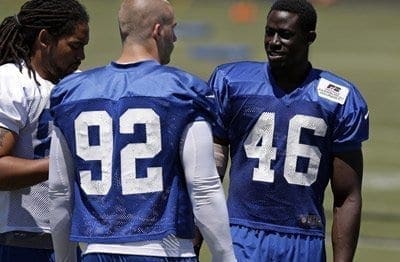 Indianapolis Colts linebacker Daniel Adongo, (right #46) with teammates during practice at the NFL team's football training camp in Anderson, Indiana, on July 29, 2013.
The former PM said Kenyan athletes have continued to excel and "they are our best ambassadors and we thank and congratulate them".
Rev Samuel Kimohu, senior pastor at St Stephens church, also urged Kenyans in the New England area to show up in large numbers at the celebrations to honour the Kenyan athletes.
"As hosts, we the people of New England area must first make sure we turn up to show a good example," he said.
The Boston Marathon weekend is the second biggest annual event that brings together more than one thousand Kenyans living in the US and Canada.
This year's Boston Marathon, set for April 21, will mark the first anniversary since the terrorist attacks last year.
The highlights of the weekend long events will be the traditional 'Dinner with Champions' that will take place on April 19, 2014 at the Back Bay Events Center in Boston, Massachusetts.
The event is organized by Run With Kenyans, an organisation that supports Kenyan athletes.
"Everything is going on according to plan and we hope to have a very successful event this year. We could not celebrate Kenya's win last year because of the chaos that arose from the attacks," said Wilson Wahome, Director of Run with Kenyans.
There will also be the Boston Kenyan Festival organised by New England Kenyan Welfare Association (Nekwa).
The festival to be held at the Westin Copley Place between on April 19-21, 2014 will feature live bands, cultural dances, food and prayers for the victims of last year's terrorist attacks.
The climax of the weekend long events will be the official launch of the Diaspora Notebook and the Diaspora 254 Star Talent Search that will take place on the afternoon of April 20, 2014 at 65 Village St Lowell, Massachusetts. -nation.co.ke