The Kenya-Nigeria showdown at AMVCA awards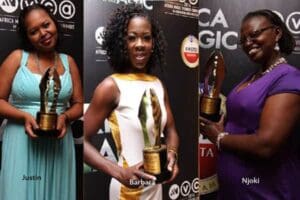 The elegant looking Kenyan team had hardly settled at the ballroom when the onslaught began. "And the award for the Best Art Director goes to Barbara Minishi, Nairobi Half Life," the presenter announced sending the huge Kenyan contingent into a near ecstatic celebration. About two minutes before, Barbara had just dazzled the 100-metre spectacular red carpet celebrity parade alongside the other Kenyan stars and now, lost in joy, she hastily waded through the crowd to the podium where the winner's trophy awaited her.
The mood had been set for a great Kenyan night and in another minute; another Nairobi Half Life scoop pulled the shocker with Mohamed Zain getting named the Best Lighting Designer. "It seems like we are having Lupita moments. Nairobi Half Life is having a full life," Ike, the main host of the night joked to an animated cheer and ululation from the Kenyan crowd.
Even though the writing had been on the wall that Nairobi Half Life, Contractor, a huge movie by Yvonne Okoro from Ghana as well as Nigeria's Last Flight to Abuja, would be the talking point of the night, the back-to-back Kenyan win was now sending shock waves to the other countries. A reprieve moment came when the Best Video Editor award went to the Contractor before the film claimed the Best Movie Director award.
But then again Nairobi Half Life did another sweep claiming the Best Cinematographer and Best Make-up Artiste awards. The Kenyan party was on. "Thank God Nairobi Half Life was not nominated in my category," one of the winners joked when she was called to collect her winner's accolade. But it wasn't only Nairobi Half Life that was running the Kenyan show. To the shock of many, the KTN aired Njoki Muhoho's Mama Duka stunned its rivals in the Best Indigenous Language— Kiswahili category to bring the Kenyan win to five, the second highest win after Nigeria's dominance.
"Clearly, this has been the night of the Nairobi Half Life and Kenya," Ike admitted as he ushered celebrated TV hosts Sarah Hassan and Nick Mutuma to the stage to present an award. Dorothy Ghettuba, Oyunga Pala, Nini Wacera, Ian Mbugua, Liz Njagah, David Mulwa, Catherine Kabugi, Edwin Maina, Veronica Waceke stood tall in the VIP section joining Africa's and Nollywood greatest among them Rita Dominic, Desmond Eliot, Genevieve Nnaji, Rukky Sanda and Uche Jombo. And with Ghana's celebrated singer Mr Flavour and Davido from Nigeria showcasing the best of African singing talent, the after party had no dull moments as Africa united to celebrate the great individuals who are telling her story to the rest of the world.-standardmedia.co.ke