William Ole Ntimama to ditch ODM for Uhuru Jubilee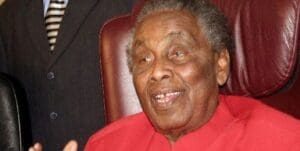 Former Heritage Minister William ole Ntimama has regretted his decision not to support President Uhuru Kenyatta during campaign period and hinted that he will quit the Orange Democratic Movement (ODM) party for The National Alliance (TNA) party.
Speaking in Olposimoru, Narok North constituency, during the homecoming ceremony of Information and Communication and Technology Principal Secretary Joseph Tiampati, Mr Ntimama said many of his supporters have urged him to join the Jubilee government, which he said has rewarded the Maasai community with high profile positions.
He said his decision has cost him the chance to serve Kenyans with President Kenyatta who he described as "long time friend".
Speaking in Kiswahili Ntimama said, "Kama watu wanataka tuungane na Uhuru, mimi ni nani nikatae? Kazi yetu ni kuhudumia wananchi na sharti tufanye watakalo." (If people want us to join the government, then who am I to refuse? We are the people' servants and we must do what they tell us to do).
Ntimama said he remained adamant despite several pleas from retired President Daniel Arap Moi to support Uhuru in 2002.
"When Moi pleaded with me to throw my support to Uhuru, I remained big headed. I realise that I made the same mistake in last year's polls. Uhuru has proved to be a good leader who has the ability to unite all Kenyans," said the former Narok North legislature.
Ntimama urged leaders in Narok to unite and leave political differences, which emerged during the campaign period aside. He vowed to support the incumbent Narok North MP and Mr Tiampati both of who were reading from different scripts in the last elections. "I have nothing against you. But as an experienced leader I will support you for the benefit of our people. My name is big in Kenyan politics and I will continue playing advisory role," he said.
-The Standard