Kenyan police woman reprimanded for inappropriate dressing

Kenyan police woman reprimanded for inappropriate dressing
A female police officer from Kiambu has been reprimanded for what was described as inappropriate dressing while on duty.
The officer whose photograph was published in the Sunday Nation has however not been transferred from her station as had been alleged.
In the photo taken at a motor rallying event in Kiambu on Saturday, the officer appeared in a tight fitting police uniform skirt.
The photograph was accompanied by an amusing caption, "Security was tight."
Hours after the photo was published, it went viral on social websites Facebook and Twitter, and attracted an avalanche of comments from Kenyans.
The female officer's mode of dressing was on Monday the topic of discussion on a local FM station's breakfast show.
The officer is attached to the traffic department in Lari, Kiambu County.
Deputy Inspector General of Police Grace Kaindi said: "She was reprimanded but she is still in Lari (station)."
Ms Kaindi was responding to rumours that were circulated on social media saying the officer had been transferred to Mandera, a hardship zone.
She was among officers who were deployed to enforce law and order during the KCB Kiambu rally at Migaa estate on Saturday.-nation.co.ke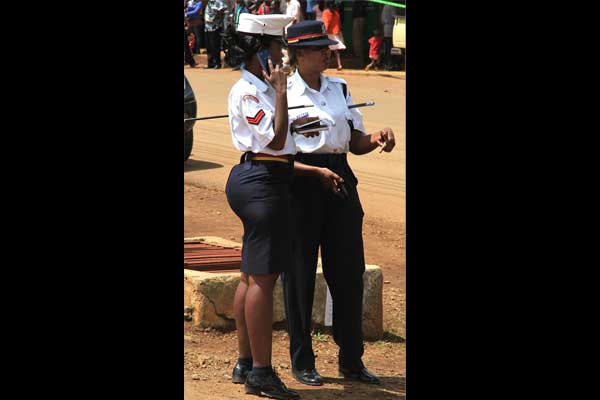 Kenyan police woman reprimanded for inappropriate dressing