MP files motion to impeach Devolution Secretary Waiguru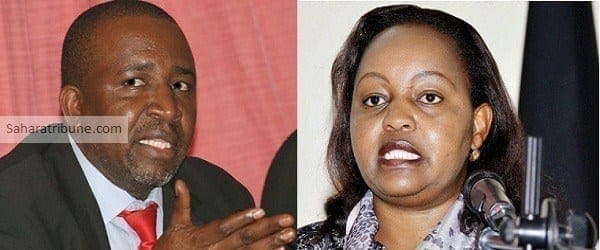 MP files motion to impeach Devolution Secretary Waiguru: Devolution Cabinet Secretary Anne Waiguru faces impeachment after an MP gave a notice of a motion meant to have President Kenyatta dismiss her from office.
Mr Mithika Linturi (Igembe South, TNA) has so far convinced 98 MPs to sign his petition to oust the CS over what he termed as gross misconduct and gross violation of the constitution.
Majority of the MPs are from President Kenyatta's TNA wing of the Jubilee Alliance.
Mr Linturi said he had submitted a copy of the motion to the office of the Clerk of the National Assembly as required by the Standing Orders in readiness for debate in the House.
In the motion, Mr Linturi accuses Ms Waiguru of intimidating and threatening public servants under her jurisdiction.
It cites the sacking of former Chair of the Youth Enterprise Fund Evans Gor Semelang'o and National Youth Service Director-General Kiplimo Rugut. The Cabinet Secretary has since denied the claim.
"The Cabinet Secretary has failed to respect, uphold, defend and obey the constitution regarding fairness in administrative actions and fair hearing in the removal of public officers from their offices," read the motion.
Mr Linturi said there will be no retreat in the process and said he will not rest until the CS is removed from public office.
The House requires at least 88 MPs out of the 349 MPs to proceed with debate.
If the motion is supported by a third of the total MPs (117 MPs), a select committee of eleven members is established to probe the allegations made against the Cabinet Secretary.
Should the select committee find the allegations substantiated, they table the findings before the House where only a vote by a simple majority is required to petition the President to sack the Cabinet Secretary.
MPs drawn from both TNA and URP seemed united in ensuring that Ms Waiguru goes home amid claims that such a move would serve as a deterrent measure against other cabinet members.
Source-nation.co.ke