CORD beats hasty retreat on Joseph ole Lenku censure
CORD beats hasty retreat on Joseph ole Lenku censure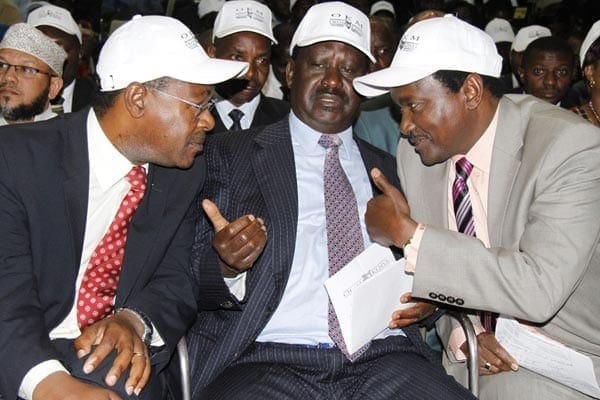 NAIROBI, Kenya, Jun 25 – The Coalition for Reforms and Democracy (CORD) has withdrawn its censure Motion against Interior and Co-ordination of National Government Cabinet Secretary Joseph ole Lenku.
The Motion was filed in the National Assembly on Wednesday morning after the coalition accused Lenku of failing to stem runaway insecurity.
But a meeting chaired by coalition principals Raila Odinga and Moses Wetangula later in the day instructed the Minority Leader in the National Assembly Francis Nyenze to write to Speaker Justin Muturi to withdraw the motion.
"On reflection and wide consultation, we believe that ole Lenku is just but a small functionary in a rotten system and to go for him will be misapplying our energies and our brain," Wetangula stated.
Kisumu Town MP Ken Obura who filed the Motion wanted Lenku faulted by MPs on grounds of incompetence and alleged inability to carry out his duties.
The first-time MP had implored Deputy Speaker Joyce Laboso to schedule the matter urgently but she ruled that the matter now rests with the House Business Committee.
"Madame Speaker, I wish that hopefully the Motion will be scheduled for sometime tomorrow (Thursday) afternoon or latest Tuesday afternoon," Obura had requested.
"Honourable Ken Obura you are not in the House Business Committee… you will not decide when it will be scheduled," Laboso stated.
At Wednesday's meeting, CORD also vowed to proceed with rallies in Eldoret on Friday and Narok on Saturday and called upon the Government to provide security at both events.
"We wish to advise our supporters and all Kenyans who value freedom and peace that we will proceed with all our rallies as scheduled beginning with Eldoret on Friday," read a statement signed by Odinga, Kalonzo Musyoka and Wetangula.
"As the Opposition coalition, we stand committed to defending the constitutional right of Kenyans to free expression, association and assembly," said the CORD leaders.
CORD beats hasty retreat on Joseph ole Lenku censure