Extravagant outing but many Kenyans determined to grace fiesta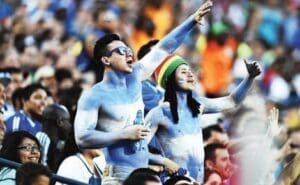 Despite the high cost of the trip, many Kenyans continue to make last minute arrangements to travel for what will arguably be a once-in-a-lifetime experience. Some companies are also taking their staff to Brazil. Bunson Travel and Carlson Wagonlit Travel, an authorised Match Hospitality sub-agent, is selling the 2014 FIFA World Cup tickets-inclusive of hospitality packages in the East African region. By yesterday, the firm had sold more than 500 packages in Kenya, and reported massive last-minute requests for the same. "The numbers keep growing and there seems to have been a sudden upsurge in interest. With the number of requests we have so far, the number of packages bought could surpass the 1,000 mark," John Mwanthi, a senior tour consultant at the firm, told The Standard on Saturday.
Yet, the outing to watch the most exciting tournament in sports will not be cheap and depending on one's host city and the stage of the tournament, the cost of the packages could be staggering. A couple staying in a three-star hotel in Sao Paolo or Rio de Janeiro will, for instance, pay Sh2.7 million for an eight-day package that will include watching a semi-final or the final match, while excluding the main meals. Generally, the packages include air fares, accommodation at three, four and five star hotels, breakfast daily, transfers to airports and stadiums, Portuguese guides, parking passes and visa costs. The match hospitality package will also include snacks and drinks before and after a match as well as a Category 1 match ticket. Save for breakfast, those travelling will have to separately pay for the other meals. Preferred matches Mwanthi reveals that most of the Kenyan clients have booked tickets to watch Spain versus Netherlands, Germany versus Portugal, Cameroon versus Brazil and Germany versus Ghana.
"For the knockout stages, most of the Kenyan clients have preferred matches in Sao Paulo and Rio de Janeiro)," he says and adds "Most people are, however, taking this as a holiday, and some do not even have any match tickets but just want to enjoy the atmosphere in Brazil from the start of the knock-out stages to the end of the tournament." Phillip Maina, 22, will be taking a nine-day holiday to Brazil alongside his mother, his 22-year-old brother and 15-year-old sister.
He reveals that the trip, which will see them spend six days in Brasilia and three more days in Rio de Janeiro, will cost the family approximately Sh2 million, with almost half the amount spent on airfare. "We plan to watch Portugal play Ghana, and most probably watch the first match of the round of 16. But it is more of a holiday and all we want is to enjoy life in Brazil," says a buoyant Maina. With a high cost of living and skyrocketing prices in Brazil due to the World Cup, the holiday will be rather expensive. A four-day package during the group matches for someone staying in a four-star hotel will cost Sh455,880 in addition to a Category 1 match ticket and hospitality package going for Sh60,900.
Final match A four-day package during the round of 16 while staying in a four-star hotel will cost Sh631,880 including a Category One ticket while a similar package during the quarter finals will cost Sh804,054. But it is those who want to watch a semi-final or final match in the cities of Rio de Janeiro or Sao Paolo, who will feel the pinch in the pocket; the rates here are among the most expensive in the world "Some cities are cheaper, but being in Rio for a week during the knock-out stages will cost anything from 15,000 US dollars upwards," states Mwanthi. Nakumatt Holdings is among companies that will be sponsoring some of their staff and customers to Brazil. The retail outlet will have a party of more than six staff members and customers for the World Cup. Customers Yvonne Musila and Musila Munuve will be heading to Brazil courtesy of Visa after the former emerged the winner in a draw involving customers who recently settled their shopping bills worth Sh3,000 and above using their Visa cards. They will watch the World Cup final match.
-standardmedia.co.ke