Court lifts order to hold Cord principals liable for damages during Saba Saba rally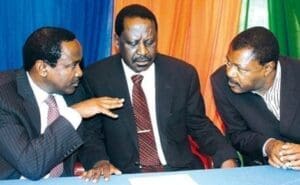 NAIROBI, KENYA: Order to hold Cord principles personally liable for any loss during Saba Saba rally has been lifted.
Court meanwhile maintains other orders not to allow mass action. Judge Lenaola maintains that there will be no mass action till tomorrow at 10 AM.
On Monday CORD filed a case in court seeking to withdraw a consent that they had filed on how they will run their Saba Saba rallies.
Senior counsel James Orengo and Machakos Senator Johnston Muthama moved to court Monday before Justice Lenaola Leornard aggrieved with order that the judge issued last Friday.
Judge Lenaola had declined to stop the rallies as sought by Nairobi Senator Mike Sonko but allowed a peaceful, unarmed and a mass action free rally.
Later on CORD leader Raila Odinga in a rally at Kisii termed the orders as draconian and taking back Kenya to ages of one party rule when executive was using court to intimidate Mwananchi. Cord brigade vowed to go ahead with Today's rally.
-standardmedia.co.ke