Referendum already has 600,000 signatures – ODM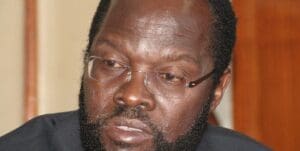 NAIROBI, Kenya, Aug 28 – The Orange Democratic Movement (ODM) has said that the push for a referendum is unstoppable, as it revealed that the Okoa Kenya movement has already collected 600,000 signatures.
Speaking following the party's Parliamentary Group meeting on Thursday, Party Secretary General Anyang' Nyong'o stated that the Opposition Coalition for Reforms and Democracy (CORD) leaders were open to talks with President Uhuru Kenyatta on development issues but not on the plebiscite.
"That the referendum plane has already taken off and is unstoppable is no longer a subject of debate. ODM legislators will join their CORD family colleagues, civil society, religious leaders and Kenyans of all walks of life in drumming up support for the referendum, now and during the campaigns for the same," he said.
Nyong'o further described as inconsequential leaders within the CORD coalition who were opposing the referendum.
"To be frank, there are a few people who have said they will not be part of it. Yes, the minority must always have a say, while the majority must have their way. As a party, we fully support the Okoa Kenya initiative to spearhead the process of the referendum to fix all the loopholes in the Constitution for the good of the nation," he stated.
President Kenyatta has expressed opposition to the referendum and cautioned CORD leader Raila Odinga not to incite Kenyans against other leaders during his campaigns.
President Kenyatta urged Odinga to freely articulate the reasons why Kenyans should go to a referendum, saying that was his constitutional right.
On Thursday, Nyong'o said that through the Okoa Kenya Movement, the issues that will be raised will be owned by Kenyans.
He stated that the coalition will only submit their views as any other citizen saying that CORD has only started the process.
The movement has the National Council of Advisors, National Political Caucus and the National Citizen's Forum. It also includes the National Committee of Experts and the National Referendum Committee.
The National Council of Advisors will consist of eminent Kenyans with a proven track record in standing up for issues of social justices.
CORD has already named four experts to lead a team that will craft the referendum questions.
The team will come up with a legal strategy to be used by the Opposition in trying to compel the government to organise a referendum, following a decision reached at the Saba Saba rally.
-capitalfm.co.ke