Now Esther Arunga charged with son's murder
Now Esther Arunga charged with son's murder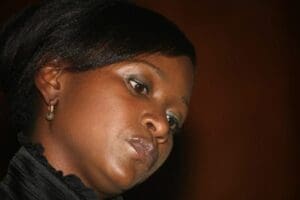 Esther Arunga was on Thursday charged with being an accessory to her son's murder nine days after her husband Quincy Timberlake was charged with murder.
Detectives from the Pine Rivers Child Protection and Investigation Unit charged Esther with the crime after investigations into the murder.
Her charge is different from her husband's as investigations revealed that she was an accessory to the murder.
According to Brisbane Times, a local news website, Criminal lawyer Chris Ford, who represented the couple in their separate legal cases, said Ms Arunga intended to fight the charges.
"We'll be seeking bail as soon as is practicable," he said.
An officer from the child protection unit who spoke to Nation.co.ke on phone said the information published by Brisbane Times was accurate and that it originated from the unit office.
Police were called to the couple's house in Kallangur about 2.30am on June 18 after ambulance officers were unable to resuscitate the boy.
CHILD DIED AS HE WAS BEING ATTENDED TO
Local TV Channel — Channel 7 — reported on June 18 that the child died as paramedics, who had been called in, were attending to him.
"The parents told the police that the child had been playing with his two-year-old brother when he fell down the stairs," the channel reported then.
After the incident, it stated, the parents gave him Panadol, a painkiller, and put him to sleep, but his condition worsened.
The couple then called paramedics who pronounced the boy dead.
"Police will allege the child had "significant" internal injuries" stated The Courier Mail.com.
Mr Timberlake, was granted asylum in Australia and left Kenya to "save" his life after being arrested and tortured while in custody on charges that were later dropped.
Four years ago, his wife, Ms Arunga sued her parents Dr Robert Arunga and Mrs Petroline Arunga, claiming they had locked her in their house and subjected her to forceful psychiatric checkup.
She declared she was married to Quincy Timberlake, who was in police custody at that time.
She demanded Sh 300 million in damages from her parents.
-nation.co.ke