Controversial Makau Mutua Denies Coaching ICC Witnesses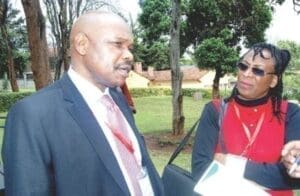 Makau Mutua, a Kenyan law professor based in the US, yesterday distanced himself from International Criminal Court's witness coaching claims stating he does not personally know any single witness.
Speaking to the People Daily moments before President Uhuru Kenyatta's Status Conference at The Hague, Mutua denied ever participating in procuring or coaching of witnesses with a view to fixing either President Uhuru or his deputy William Ruto. The law professor at SUNY Buffalo Law School termed the allegations against him "very unfortunate".
"I do not know of any witness personally and I think those are creations of people who want to use me as a scapegoat," he said. He also denied playing any role at the behest of the international court regarding the cases against Uhuru and Ruto.
Police had earlier sought to know what role, if any, that Mutua plays on behalf of the ICC, after claiming that in 2010, he trained ICC prosecutors involved in the Kenyacase. Detectives have written to the AG to investigate Mutua'sassociation with the ICC, particularly if he had been hired by the war crimes court to train investigators handling the Kenyan cases. – mediamaxnetwork.co.ke