Paternity drama:'Governor dumped me after I got pregnant'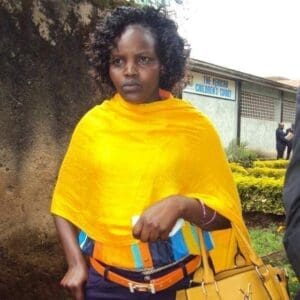 Kericho Governor, Professor Paul Chepkwony is at the centre of a paternity drama involving a three-year-old boy he allegedly sired with a woman he met while teaching at University of Eldoret (formerly Moi University, Chepkoilel Campus).  Agnes Chebet, a secretary at the neighbouring Bomet County, has accused Chepkwony of abandoning a child he fathered with her.She claims the governor tricked her into bed by promising marriage and a good life, but later changed his mind and dumped her. They allegedly cohabited for five years, before the county chief reportedly disowned the child and walked out on her.  But the governor has dismissed Chebet as a "prostitute," following a suit Chebet filed seeking orders to compel Chepkwony to pay for her upkeep and that of their alleged child. It is the second suit Chebet has filed before the Children's Court, after Chepkwony convinced her to withdraw the initial one. She wants the court to compel him to pay Sh158,000 monthly for the child's upkeep
Career on the line.
In case No.45 of 2014 filed before Kericho Law Courts, Chebet, through her lawyer, Wycliffe Ngeno Lessan, claims she cohabited with Chepkwony from 2007 to 2011, and as a result of that relationship, conceived the child now aged three and a half years.
After discovering I was pregnant, he asked me to save his career as he was vying for a gubernatorial position. But later on, he refused to pay for my upkeep and support me through the pregnancy. He has since failed, neglected and/or refused to perform his parental responsibilities relating to the suit," says Chebet in her plaint. "The defendant herein is the biological father of the plaintiff's mother having cohabited from the year 2007, while the plaintiff's mother was schooling at Eldoret Polytechnic where the defendant lived and promised the plaintiff's mother marriage upon completing her education," adds Chebet.
Paternity drama.
Kericho Resident Magistrate Ezra Ayuka, on October 21, granted Chepkwony leave to file his response by October 30 following an application by lawyer Erastus Orina holding brief for Chepkwony's advocate, Joel Bosek. "The matter was coming up before the court for mention and to take directions from the court. We sought leave to file our response on behalf of the respondent and the court gave us a date, which is October 30 for the hearing of the application," said Orina. In her statement, Chebet claims she met Chepkwony in 2007 while she was a student at Eldoret Polytechnic and he was a chemistry professor at University of Eldoret.
In her supporting affidavit, Chebet claims that Chepkwony became adamant until he was issued with a demand letter, which he replied by denying paternity and defamed her as a prostitute. But upon filing the case in court, she adds, Chepkwony promised to support them, a move that influenced her to withdraw an earlier case No: 35 of 2014. "Instead of fulfilling his part of the agreement, he threatened my advocate and completely disregarded the issue pending before the court," she says in her statement. Chebet reveals that in the collapsed agreement, Chepkwony had allegedly asked her to withdraw the child from his old school for a better one and also move to a decent house; only for the governor to renege on the deal.
Child of 'his excellency.
Chebet finds it awkward that she is struggling to bring up a child of 'His Excellency' alone. "The little income I get cannot give the child a lifestyle befitting a child of a governor who earns more than one million shillings," she says.
She claims that despite several demands made and notice of intention to sue dully made and served, Chepkwony has failed to respond, making the suit necessary. "The defendant has ignored, neglected refused and/or failed to ensure the plaintiff survival and development thus causing the plaintiff to suffer loss and damage," she adds in her plaint.
Chebet seeks the court to compel Chepkwony to pay maintenance and upkeep and also render all parental responsibility of the baby boy in accordance to the Children's Act 2001. She also wants the court to grant her full custody of the child and to compel Chepkwony to bear the cost of the suit.
standardmedia.co.ke