US-based doctor publishes book on the Maragoli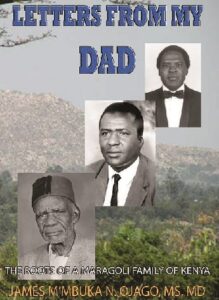 Letters From My Dad is an autobiographical, biographical and anthropological study of the Maragoli of Western Kenya by James M. Ojago .
This study examines their history, their traditional cultural beliefs and the importance of those beliefs to their society – including male penile circumcisions as a rite of passage to adulthood.
Letters From My Dad goes back three hundred years, tracing the roots of the Maragoli and their migration to Vihiga County as well as other parts of East Africa during the 1930's-40's (Kanyamkago, Tanganyika, Uganda and the Kenya Highlands).
Also explored are the impact on the Maragoli by American missionaries and British colonialists, the introduction of mission churches and schools, the experiences of Dr. Ojago's grandfather during employment on a sisal plantation at Thika, his father's experiences as a plantation employee at Molo in the Rift Valley (under British colonial rule), the effect of the Kipande on all Africans, the role of Indian immigrants to Kenya during the colonial and post-colonial periods and the effects on the Maragoli and Kenya in general and the establishment of the semi-apartheid state in Kenya during the colonial era and the effects of that system on Kenyans (land theft – use of slave labor).
Where to buy your copy:
-abeingo.org