A Diaspora giving back to the needy in Kenya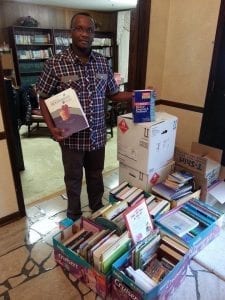 Briefly when I came to study in the USA two years ago, I saw an opportunity of book resources in my University. There are lots of books in this country. I quickly figured out and started an initiative to collect books and encouraged students, faculty and staff to donate books that will go to Kenya to help young kids. The response was very positive. I saw it as an opportunity to give back to my community.
Before I came to study here I was the Founder and Director of a community based youth organization by the name Makueni County Youth Organization (MACOYO) based in the county of Makueni. In the past 2 months I have had the privilege to collect books from my university, where I serve as a Senator in the Student Government (Park University) and the community around Kansas City Missouri towards uplifting my library in Kenya. Currently I have received a donation of over 2,500 books, printers and other stationery waiting to be shipped to Kenya. They include very quality books such as Computer science books, medical and health books, business books to mention a few. All the books will go to different counties in Kenya and some will go to my library.
Other focus areas
Due to the advancement in technology I launched a social enterprise by the name African Tutor.
Despite many miles away from Kenya, I believe that as a young person I have a responsibility to build a better Kenya for everyone. As the Founder and CEO of this social enterprise I look forward at bringing solutions to the many challenges faced by young people across Africa today. As African Tutor we intend to achieve this by empowering the young generation in the African continent by making available of useful information such as admissions into institutes of higher education from tertiary, colleges & universities, link to tutors, provide stationery such as books, pens and pencils to libraries & schools among other more information concerning the welfare of young people across the continent of Africa. In addition, we shall also make available of information & resources such as jobs, internships, scholarships, and conferences to mention a few.
In months' time, African Tutor will seek to boost education in Africa by offering quality online tutorials to students across Africa to take courses online provided one has connection to internet. Courses will include such as; financial management, computer courses, programming, to mention a few. In short African Tutor is seeking to connect the continent of Africa through education. This will boost the standards of education not only in Kenya but also across the African continent.
We will also partner with higher institutes of higher education such as colleges and universities to publish their course materials on our website and social media sites and other admission information to prospective students. This is to make it easy for college applicants to easily access such information at the comfort of their zone.
The program is running well, and I have a team of qualified tutors in Kenya as of now. Any student who needs a tutor will be able to access a tutor online via our website and social media sites.
By Humphrey Musila
African Tutor's website (In final stages of designing): http://africantut.comyr.com/index.php
African Tutors Facebook page: https://www.facebook.com/pages/African-Tutor/829210557138413