Kenyan Jacob Chemtai wins California International Marathon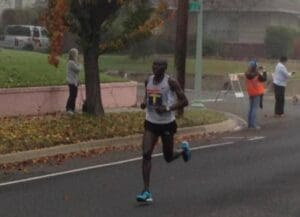 As he pulled away from the field on the streets of East Sacramento in Sunday's California International Marathon, Jacob Chemtai kept looking back over his shoulder.
But at that point, around the course's 23rd mile, given the light fog on the streets and the lead he had opened up, there was little for the Kenyan to see.
Chemtai, who trains in Santa Fe, N.M., won the 32nd annual Folsom-to-Sacramento race in 2 hours, 11 minutes, 57 seconds, crossing the finish line by the Capitol nearly two minutes ahead of the men's runner-up.
Shortly thereafter, Volha Mazuronak of Belarus set a course record to win the women's race in 2 hours, 27 minutes and 33 seconds.
Mazuronak, 25, who trains in New York, broke the old CIM mark of 2:29:21 set by Nickey Carroll in 1999. Chemtai's time was the eighth-fastest in the event's history. Each winner receives $10,000 in prize money, and Mazuronak earned an additional $5,000 for the course record.
The men's runner-up, Jordan Chipangama of Zambia, said he believes Chemtai might have had a chance at Jerry Lawson's course record of 2:10:27. But Chemtai ran a strategic race, helping set the pace for the lead pack of runners and waiting until the final miles to make his move.
"I told him, 'If you feel like you've got it, you've got to go,'" Chipangama said.
Chemtai finally did, just after the pack consisting of himself, Chipangama and Kenyans Kiplangat Terer and Julius Koskei passed the marker for mile 22.
"At 22 miles, I had to push," Chemtai said.
Soon, Chemtai, in a light gray singlet and black shorts, was running alone. As he turned onto the Capitol Mall and the final stretch, the 27-year-old pumped his right fist several times, and he sank to his knees after crossing the finish line.
Chipangama finished second with a time of 2:13:51, while Terer placed third in 2:14:19. The three were part of an early 10-runner lead pack that thinned to six by the time they reached the halfway point at 1:06:23, and to four by mile 19.
"We've met each other in a couple races and I've given him a hard time," Chipangama said of Chemtai. "He didn't know the fitness I was in, so he was paying attention to where I was and where the others were, as well. That kind of cost him, in my opinion. I think if he would've just gone, probably he would've got (the course record)."
Still, Chemtai appeared content about 20 minutes after the race as he awaited the awards ceremony, reclining on the street near the finish line in a warm-up jacket, pants and no shoes. He set a new personal best, clipping his previous mark of 2:12:39 set two months ago in Des Moines, Iowa.
"I ran my best," Chemtai said.
While there was speculation that the women's course record could fall, it mostly centered on American Renee Metivier-Baillie, the 32-year-old from Bend, Ore., running her second marathon. But it was Mazuronak who jumped out to an early lead and ultimately shattered her personal best marathon time by six minutes.
"It was a venerable course record; it took a great effort to break," said CIM race director Eli Asch. "So that was definitely one of the highlights of our day. It was great weather to run fast, and our women's winner took advantage."
Jane Kibii, 29, a native Kenyan who lives in Colfax, finished second in 2:32:24. Kibii, who recently won both the 10K and 5K races at the Thanksgiving Day Run to Feed the Hungry, said she kept pace with Mazuronak until the 19-mile mark, when the winner surged ahead.
Kibii, running just her second marathon and first since 2009, said she began to experience some leg and back pain in the second half of the race and chose not to follow Mazuronak on the latter's push.
"I wanted to finish the race," said Kibii, a member of the Sacramento Running Association Elite Team. "So I said, 'OK, I'll stay here and see what happens.'
"She was strong."
Kristen Zaitz, 34, from Broomfield, Colo., finished third in the women's race in 2:32:49. Metivier-Baillie placed fourth in 2:34:17.
-sacbee.com