Kenyans in Korea participate in first East African Urafiki Party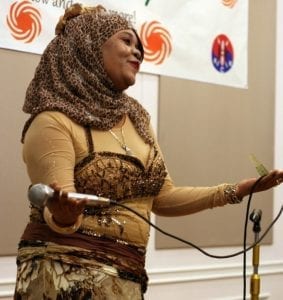 The Tanzanians in Korea and the Kenya Community in Korea held their first East African Urafiki Party in Seoul on Saturday.
The party, named after the word for "friendship" in the two countries' common language of Swahili, was a chance for people from both nations to sample some traditional cooking, while members also shared some cultural performances.
The performances included dancing by a group of Daejeon-based students from across Africa, a performance poem and a Tanzanian song and dance. One member even wrote a song for the event.
TANROK chairman Rayton Kwembe said the two groups initially came together informally.
"So then the leaders of TANROK and KCK decided to have a formal thing so we can expand the level of relationships and also try to integrate the East African Community," he said, referring to an organization made up of the two countries, plus Rwanda, Burundi and Uganda.
The EAC has formed a common market and plans a currency union, and could eventually become a single federal state. South Sudan has sought membership but delayed its formal application.
After introductions from Kwembe and KCK chairman Raphael Mbondo Omala, Kenyan Deputy Head of Mission Gathoga Chege spoke about the importance of cooperation in Korea and at home.
"The East African countries, including South Sudan, are working very hard to ensure that the integration takes place and they are putting more emphasis on the economic aspects of integration through infrastructure development," he said. "That is why we are finding that there is more and more talk about big infrastructure projects within the East African Community."
He urged East Africans here to help promote investment and tourism in their home countries, emphasizing their role as ambassadors.
Another special guest was Hong Seong-wook, secretary director of SBS Foundation's Seoam Scholarship Foundation, who spoke about humanity's roots in Africa and hoped that awareness of Kenya and Tanzania would grow in Korea.
"Many Koreans are not well aware of these East African countries," said Hong. "So I hope this party becomes a starting point for enlarging mutual understanding and friendship between us."
The gathering was the third joint event by the two groups, which began to organize formal events together this year, starting with a volunteering activity at an orphanage in June.
There was also a sports event in September.