Face of Kenya USA crowning Gala in Los Angeles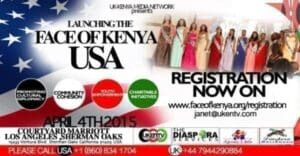 The Face of Kenya USA crowning Gala will be Held at Marriott Hotel, LA on 4TH April2015.Face of Kenya USA is an avenue aiming to promote cultural diplomacy, youth empowerment, community cohesion, charitable initiatives and progressive branding of Kenya, and selected Kenyans products in the USA.
Face of Kenya believes in investing in 'Tomorrows Leaders' and will work as a voice for Kenyan Youths by fostering awareness among the USA Kenyan community of the importance of preserving Kenyan`s culture and heritage and its social, cultural, political and economic value.
Our goal is to build, connect, and enable the youths in the Diaspora and the community to prosper while creating Kenyan Ambassadors that positively portrays Kenya in the USA.
The Brand Face of Kenya is going to be launched in different countries. In the UK it was launched in 2012 and the main event was 1st June 2013, had 548 people in attendance, mostly professional Kenyans in UK and friends of Kenya. The event
benefitted 8 children homes and two water charities working in Kenya.
The 2014 pageant had over 700 people in attendance and the reigning queen Laviniah Karanja is exceptional at branding Kenya in High Professional Avenues and she had raised £1,500 for her charity of choice.. There were 14 charities that were supported by the
project.
To participate,you can Contact Wacu Ndirangu- (860)8341704.
or
www.ukentv.com, www.faceofkenya.org, www.faceofkenyauk.org
[email protected] Tel+447944290884