FINALLY, THE KENYA DIASPORA POLICY HAS BEEN RELEASED: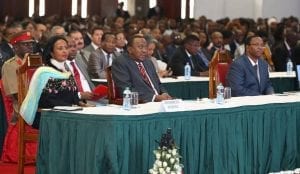 President Uhuru Kenyatta, finally released the Kenya Diaspora Policy and the Kenya Foreign Policy on January 20, 2015. At a very colorful ceremony, which was attended by very many Kenyans who included hundreds of Kenyans from the Diaspora, President Uhuru Kenyatta handed over the Kenya Diaspora Policy to Dr. Githua Kariuki, a Professor at Morgan University in Baltimore, Maryland in USA and Dr. Shem Ochuodho, a Senior Advisor, Ministry of Telecom & Postal Services, Republic of South Sudan (RSS) Juba, on behalf of Kenyans in the Diaspora. The two are co-founders of the Kenya Diaspora Alliance.
The ceremony was attended by very many Kenyan leaders who included the Foreign Affairs Secretary Amina Mohammed. After the handing over ceremony, Dr. Moses Githua Kariuki was seen walking hand by hand with President Uhuru Kenyatta, through the Red Carpet, with all the Kenya electronic media focusing on them, up to the Presidential motorcade, where the President entered his car. Both appeared to have been engaged in a very serious talk, only known to the two.
The Kenya Diaspora Alliance should now call for a meeting in order to discuss how to release the contents of the Kenya Diaspora Policy in the manner it is posted in the Diaspora Policy booklet, to Kenyans in the Diaspora. I hope that Dr. Githua Kariuki and/or Dr. Shem Ochuodho, will make sure that this is done as soon as possible and without any delay.
Meanwhile, I wish to thank all those Kenyans, including Dr. Githua Kariuki and Dr. Shem Ochuodho, who traveled all the way to Kenya from abroad, to attend that ceremony using their own funds. It was a sacrifice worth applause.
Isaac Newton Kinity.