2 Egerton students arrested for causing terror scare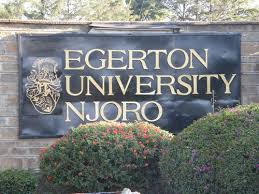 Two Egerton University students have been arrested for causing a terror scare at the institution's main campus.
The two students, Alex Wachira and Titus Ngare were arrested at the main campus in Njoro on Friday evening.
Three students were reported by their colleagues for posting information of an impending attack by the Al Shabaab militia on the institution and posting a google map of the Njoro campus.
Police have launched a search for the third suspect Robert Mungai who is still at large and placed a Sh2mn million bounty on him.
The scare was taken seriously by the students given that it came barely a day after the horror meted on university students at Garissa University College.
Kenyan universities remain on high alert following earlier threats on the country's higher learning institutions and key government installations.
Student leader Fredrick Juma said the two were handed to the police and are being held at the Njoro police station
Analysts say the Somalia militia whose most of its leaders have been killed by Amisom and US strikes is a pale shadow of its past that has now been reduced to high profile attacks on defenceless citizens.
-nation.co.ke