Father heard his daughter being shot by terrorists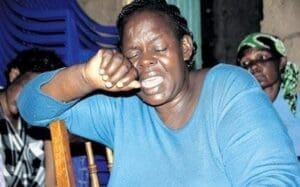 At 6.54am on Thursday last week, Mrs Christine Obondi received an SMS from her daughter, a second year student at Garissa University College.
"The message said gunmen had attacked the institution and started shooting people," Mrs Obondi, a teacher in Kisumu, told the Nation yesterday at her home in Otonglo as she recalled the seven-hour agony she endured before her 21-year-old daughter, Lydia Akoth, was shot dead by terrorists the day before Good Friday.
About an hour after Lydia sent the text message, she called her mother to tell her that she was hiding in a room in the girls' hostel with five other female students.
Between 11am and noon, Lydia called both her father and mother and told them she was safe but terrified as she could hear gunshots within her hostel.
At about 12.45 pm, Mrs Obondi tried to call her daughter but the phone rang unanswered several times, prompting her to send a text message.
Lydia replied asking her mother not to call her because the gunmen were near her room.
The late Lydia Akoth. PHOTO | COURTESY
At 1.30pm, her father, Mr James Obondi, called. This time, Lydia was screaming, saying she was about to be shot.
"Dad our lives are at the mercy of Al-Shabaab. Don't call me again. Bye," she told him.
Before they could finish the conversation, one the attackers snatched the phone from her and talked to Mr Obondi, telling him that that was the last time he was speaking to his daughter.
"I talked to one of the Al-Shabaab. There was a language barrier since they spoke in Somali language. The only words I had were "mnafiki wewe! (you hypocrite!)," said Mr Obondi.
TRAUMA
Mr Obondi, a chemistry teacher at Lions High School in Kisumu, said the worst part has been the trauma of identifying the body of his firstborn daughter, whose face was disfigured by the bullet.
"With the help of my other daughter and fingerprints, we were able to identify the body of Lydia. She loved wearing bangles and this also helped us identify her easily," said Mr Obondi, who was in Nairobi waiting to take Lydia's body to Kisumu. Many families of the 148 victims will be doing that between today and tomorrow.
Mrs Obondi, who teaches music at Monao Teachers Training College, a private institution in Kisumu, believes her daughter would have been saved if security forces had responded faster to the attack.
According to her, the nearly seven hours it took, from the time Lydia first informed them of the danger she was in and the moment she was shot dead, security forces would have saved her and many other students.
"I last saw her in January," she said of their last meeting.
"We communicated two weeks before the attack and she told me that they would break for two weeks for holiday, after which she would proceed for her teaching practice."
Unknown to her, this was not to be.
Lydia's family is not alone in mourning. Four other families from Busia County also lost their sons and daughters.
Milton Mukhwana from Bulanda in Matayos Sub County, Ruth Esiromo from Teso North, Peter Magio Mulindiro from Bunyala and Obedi Okumu Okodoi from Teso South, were among the 142 students killed by terrorists who did not discriminate between men and women, unlike in past attacks at the Coast where they only targeted men.
According to Mukhwana's brother, Isaac Hamisi, the student last sent a text message to his grandfather at 5.47am on the ill-fated Thursday.
"Grandpa, we have been attacked by Al-Shabaab. We are in deep trouble," the message said. It would turn out to be his last words to his family. His body was positively identified at Chiromo mortuary on Monday.
Magio, the other victim, hailed from Mundere village in Bunyala Sub County. He was a first year student pursuing of Education.
Identified the body
His fisherman father, Mr Okello Mulindiro, said that although relatives had positively identified the body, the government was yet to release it.
"We want the government to fast-track the process so that I can bury my son," he said.
Like other families, they too are seeking closure after the heinous attack.
Busia Knut Executive Secretary Mark Oseno sent his condolences and those of teachers from the region to the affected families.
"It is sad and shocking to lose 147 intellectuals," Mr Oseno said and asked the government to take measures to improve security.
-nation.co.ke