Irate residents burn school after falling wall kills child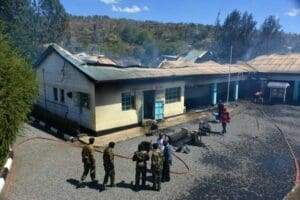 Residents of Mchanganyiko Village in Nakuru Sunday burnt a school after a perimeter wall fell on two children killing one on the spot.
Members of the public stormed Elimu High School and set it on fire accusing the school management of carelessness.
The angry residents burnt down the building housing the school's administration block, the dormitories and a store and looted property of unknown value.
According to Leonita Kabasa, a worker at the school, the angry mob stormed the school compound and ordered all workers to leave.
"They ordered me to leave the school compound threatening to attack me. They then set on fire the building housing the administration block," she said.
Bahati Division Police Commander Duncan Nguthu confirmed that a 7-year-old boy died on the spot while the other one was receiving treatment at the Rift Valley General Hospital with a broken leg.
"Following the incident protesting residents burned down the school reducing investment worth millions of shillings was to ashes," said the OCPD.
He faulted members of the public for taking the law into their hands.
"It is unfortunate for such an incident to occur but we will arrest those behind the burning and looting," he said.
A section of members of the public together with Kenya Red Cross officers tried to put out the fire.
-nation.co.ke