Kenyan Students to learn between 8am and 3.30pm only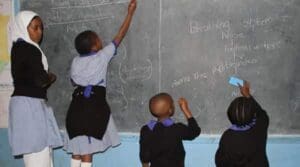 NAIROBI, Kenya, Apr 16 – Students will only learn between 8am 3.30pm under new regulations set by the Ministry of Education.
In the regulations appearing on the gazette notice on April 8, students will engage in co-curriculum activities like games and clubs from 3.30pm to 4.45pm.
The new regulations further direct that no learners should report to their institutions and schools earlier than 7.15am.
After co-curricular activities, learners should be allowed free time to engage in activities of their choice.
"The rules provide that that student should be allowed between 5pm to 7.30pm for self directed activities," the ministry stated in a press release on Thursday.
Prep hours are planned for Monday to Friday from 7.30pm to 9.30pm.
From 9.30pm, schools should ensure it is the bed time for learners.
"The period between 6am to 8am just before the commencement of official class work has been earmarked for supervised routine activities," Education Minister Jacob Kaimenyi warned.
In the regulations, no basic institutions are allowed to send away learners later than 9am without them being accompanied.
The regulations were proposed in Basic Education Regulations 2014.
-capitalfm.co.ke