ODM suspends Kisumu County Assembly leader, deputy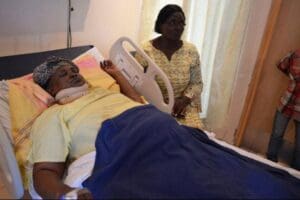 The Orange Democratic Movement has suspended Kisumu County Assembly Majority Leader Samuel Ong'ow for alleged gross misconduct.
Mr Ong'ow and his deputy John Olum were suspended following recent violent incidents witnessed in the Assembly.
In a letter dated April 29 and seen by Nation.co.ke, ODM Secretary-General Ababu Namwamba said the two vacate their offices with immediate effect.
"The party has referred their matter to the disciplinary committee for appropriate swift action," said Mr Namwamba.
The party issued a warning to all sponsored leaders in counties countrywide that misconduct and impunity will not be condoned.
Mr Namwamba said the situation puts at risk Kenyans' dream of seamless devolution.
There was drama at the Kisumu Assembly on Tuesday evening after Deputy Speaker Pamela Omino collapsed and was rushed to hospital following a fight with members.
Trouble in the assembly began at 2pm after Ms Omino blocked the acting Speaker Gabriel Ochieng' and mace from entering the debating chambers.
Ms Omino argued that she was the legal Speaker owing to her position as deputy contrary to opinion of members.
The members said the position belonged to Mr Ochieng', who was elected on an acting capacity.
She however remained adamant leading to a confrontation between her and members, who accused her of sabotaging House proceedings.
One hour later, members forced the mace into the debating chambers.
Ms Omino followed them but was blocked by assembly sergeant-at-arm leading to a confrontation that lasted over 10 minutes.
She collapsed during the confrontation and was rushed to a nearby hospital by her aides.
Police were called in to reinforce security after youth stormed the premises.
Ms Omino said she will not accept the resolution of a meeting convened by Mr Ong'ow in the Assembly on Monday evening.
The members, in a closed door meeting that lasted several hours, agreed to adhere to a court ruling that allowed Mr Ochieng' to continue acting as speaker.
"I am a member of the House and the deputy speaker. Why don't you allow me chair the sessions today?" she said.
Ms Omino said she will go by the resolutions of a meeting chaired by ODM leader Raila Odinga on April 18 where it was passed that she assumes her role as acting Speaker.
The Assembly moved to the court to appeal a decision by the Employment and Labour Relations court that reinstated Ms Anne Adul.
Ms Adul was impeached last October on grounds of misuse of funds and intimidation of members.
-nation.co.ke