Opinion:Why President Kenyatta Should Withdraw Troops From Somalia

Opinion:Why President Kenyatta Should Withdraw Troops From Somalia: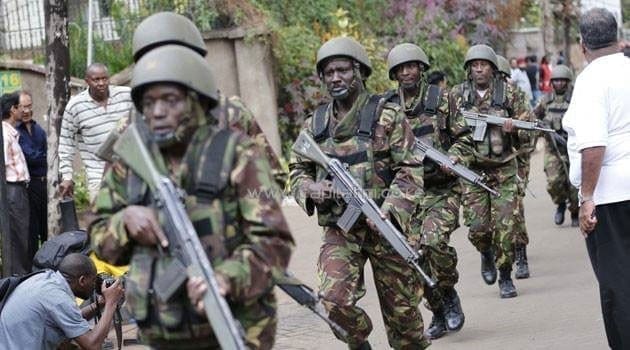 Perhaps the most disturbing question on the minds of Kenyans and Jubilee administration at the moment is whether Kenya Defense Force (KDF) should or should not withdraw from Somalia. Regardless of differing school of thoughts on this issue, withdrawing or staying put has its consequences. However, withdrawing is a more tactful and strategic approach. Let's explain.
Almost four years ago, the coalition government of former president Kibaki took unprecedented step to deploy Kenyan troops in Somalia in pursuit of Al-Shabaab terrorists who had abducted tourists and aid workers inside of Kenya. That war was so popular against the backdrop of overwhelming support by Kenyans.
With almost four years of sweat, tears and blood and an estimated cost of $43,217,103 every six months-what seemed like a walk-in-the-park-type battle has morphed into a full blown war which Al-Shabaab invokes to unleash terror on Kenyans.
Yet, despite overwhelming popularity of that war at that particular time, we opposed it.
Our contention was that Kenya doesn't have sophisticated intelligence and financial capabilities to wage a long lasting and successful war against a tactful and suicidal group of Al-Shabaab militants.
We opined that existential threats facing Kenya are not in Somalia. Threats to Kenya's internal security are right within our borders as it was exemplified by a homegrown terrorist in Garissa massacre.
These threats include radicalized and indoctrinated young adults, corruption, terrorist financiers, un-coordinated security apparatus, a growing feeling of marginalization among minorities, poor intelligence gathering and dissemination methods and skyrocketing unemployment.
Nevertheless, war against terror is not a chest thumping or ego prodding exercise. It requires multifaceted strategic approaches which includes tactical withdrawal to reassess progress.
More importantly, however; terrorism is fuelled by Jihadist ideologies. Bullets and bombs can't annihilate extreme ideologies. Impeccable intelligence, propagation of sound ideological narrative and a fortified border is imperative.
Perhaps U.S.'s setbacks in her fight against terror in the aftermath of 9/11 can offer us lessons. In 2003, U.S. invaded Iraq in pursuit of Al-Qaeda and its leader Osama Bin Laden who masterminded the deadliest attack on an American soil.
About 9 years later, a war which President Obama opposed when he was Senator-depressed Americans with a mind boggling financial cost estimated by The Washington Post to be about $2 trillion.
Had USA invested in enhanced intelligence gathering methods, use of tactical and preemptive strikes and heightened screening without deploying troops in a costly mission in Iraq, her economy wouldn't have nosedived on the heels of President George W. Bush. With 4,488 dead and 32,223 injured; U.S. withdrew from Iraq.
Despite enormous cost of that war, no tangible gains were made. Threats against the U.S. doubled. To date, Iraq remains unstable with a new threat presented by the brutal ISIS.
Nevertheless, Kenya isn't the first country to pursue terrorists cells in Somalia. In 2006, U.S. backed Ethiopian troops invaded Somalia but withdrew 4 years later without achieving sustainable progress.
In 1993, U.S. invaded Somalia in an attempt to destroy Al-Shabaab. Results were devastating. 18 U.S. troops were killed, 73 wounded and 1 captured. Bodies of the dead soldiers were dragged through the streets of Mogadishu.
Further, the Al-Shabaab militia and armed civilians shot down two of the American UH-60 Black Hawk helicopters. With limited options, the U.S. withdrew to review her strategies after incurring a cost estimated to be about $55 Billion.
These critical lessons demonstrate the importance of tactical retreat as opposed to cowardice withdrawal in protecting national interests and advancing sound foreign policies.
Furthermore, the presence of our KDF troops in Somalia hasn't kept us safe.
According to a damning investigative report that was released by the U.N. and a U.S. funded organization called the Institute of Defense Analyses (IDA), KDF was accused of aiding Al-Shabaab terrorists to smuggle contraband goods including charcoal.
It is believed proceeds from this illegal trade, which runs into billions, arms and sustains the Al-Shabaab.
That's why in his capacity as commander in chief, President Uhuru Kenyatta should consider the financial cost of the war against meager resources at home, casualties of the war and national interests-which of course are jeopardized by this war- to make a tough decision of ordering a tactful withdrawal.
-This Opinion was written By Jacktone Ambuka [Email: [email protected]] and Comfort Munoru Mwangi [Email: [email protected]].
Opinion:Why President Kenyatta Should Withdraw Troops From Somalia: