Police looking for 4 men plotting weekend attack in Mombasa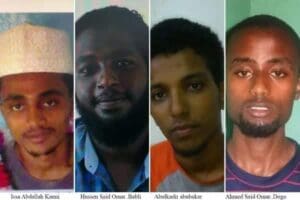 Police have released photographs of four men over claims they were linked to Al-Shabaab terror group and that they are planning an attack at the Labour Day weekend.
The pictures were circulated after intelligence reports showed they planned the attacks, police said.
Among those whose pictures have been released is Abulkadir Abubakar Abdulkadir, a brother to one of the three girls who are being detained by police in Mombasa on orders of the court after they were arrested in Mandera last month while attempting to cross to Somalia to join the terror group Alshabaab fighters, police said.
Two weeks ago, a Mombasa court heard that Ms Abubakar was in the company of Ms Maryam Said Aboud and Ms Ummulkhayr, Sadri Abdulla when they were arrested in Elwak.
Issa Abdallah Kauni who went missing from his parents' home in Mombasa on 2014 is also wanted. His posters, as a missing person, have been published in Mombasa by his family.
Authorities say they believe he traveled to Somalia to join Al-shabaab in the company of Abdulkadir.
"There are fears that Al-Shabaab top command has dispatched them to Kenya to carry out attacks at the Coast this weekend," said a senior officer aware of the probe.
The other two are brothers – Ahmed Said Omar aka Dogo and Hussein Said Omar aka Babli.
"Armed and dangerous"
Police described the four as "armed and dangerous," and appealed for public help in arresting them.
Those with information on their whereabouts have been asked to contact the police on 020-2199151 and 0702432877.
Surveillance has been increased after terrorists attacked Garissa University College on April 2 and killed 148 people, including 142 students.
On Sunday, police arrested a Parliament employee Ali Abdulmajid Ahmed after an intelligence report linked him to Al-Shabaab plot to bomb the National Assembly.
Police said the group had also planned to carry out attacks on markets, churches and a university.
Anti-Terrorism Police Unit were allowed by the court to detain Ahmed, who is also a committee official at Pumwani Riyadh Mosque in Nairobi, for 10 days to complete investigations before charging him.
He was in the past named in a United Nations report, which also associated the mosque with Al-shabaab activities, information which on several occasions has been denied by its officials.
-standardmedia.co.ke