President Uhuru to tour Raila's political stronghold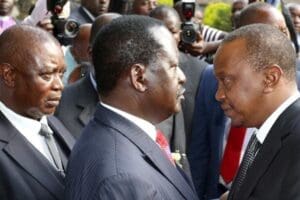 President Uhuru Kenyatta is set to visit Kisumu next week after postponing a tour of the town several times last year.
The town is a political stronghold of ODM leader Raila Odinga, who is a co-principal in Cord.
The President is expected in the town on Wednesday, according to State House. He is scheduled to open this year's governors' summit at the Tom Mboya Labour College.
The forum, which will begin on April 21 and end two days later, is expected to bring together more than 5,000 officials county government officials and devolution technocrats.
Yesterday, State House confirmed the President's scheduled tour, but kept his itinerary under wraps.
"The President is provisionally scheduled to speak at the governors summit next week.
"I say provisionally because the President's diary is always subject to change depending on emerging factors," said State House spokesman Manoah Esipisu. Last year Mr Kenyatta was expected in the town but he postponed the visit.
Yesterday, Kisumu Central MP Ken Obura said leaders and local residents were eagerly awaiting the President's maiden visit, which he said was long overdue.
-nation.co.ke