Should Kenyan troops pull out of Somalia?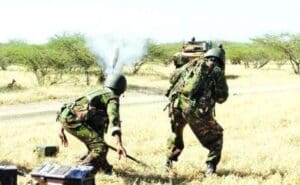 The debate on calls to pull Kenyan troops out of Somalia after the massacre of 148 Garissa University College students by Al-Shabaab terrorists has gathered pace and is influenced by partisan politics.
Government supporters say pulling the Kenya Defence Forces (KDF) out of the troubled Horn of Africa nation will not halt terror attacks in Kenya and will only undermine national security.
But many in the Opposition argue the troops' presence in Somalia has become costly, both in lives lost and materially, while moderates advocate for a review of military strategy while keeping boots on the ground.
President Uhuru Kenyatta, the Commander- in-Chief of the KDF, has vowed the troops, who went to Somalia in 2011 in pursuit of terrorists who had breached the country's borders, would remain there until they accomplish the mission to vanquish Al-Shabaab and stabilise the country.
"I guarantee Kenyans that my administration shall respond in the severest ways possible to the Garissa attack, and any other threat to us," President Kenyatta said on April 4 in an address after the attack on Garissa University College in which he asked Kenyans not to fall for the false narratives propagated by terrorists.
Governor Ali Roba, who has been a target of terror attacks in his county of Mandera, where dozens have been killed, says KDF should only pullout after Somalia's security has stabilised.
"I know some people are of the view that the troops should be withdrawn and it's very easy for them but for us, who have been hardest hit by the terror attacks, KDF is really doing a good job staying there," said Mr Roba, whose county shares a 300km border with Somalia.
Senate Speaker Ekwe Ethuro is also opposed to the suggestion.
"No way. We should even add more soldiers to Somalia to get rid of Al-Shabaab completely," said Mr Ethuro.
The new Moderator of the Presbytarian Church of East Africa, Julius Mwamba, has said the war against Al-Shabaab in Somalia must continue.
"Mr President, terror can never be defeated through cowardice, but by boldly facing and vanquishing the enemy," Mr Mwamba said during the 21st PCEA General Assembly in Nairobi.
Murang'a Governor Mwangi wa Iria said the presence of the Kenyan soldiers in Somalia should not be politicised by leaders, but supported.
"They went there for a purpose which must be accomplished before leaving. Al-Shabaab are not attacking Kenya because KDF is in Somalia. They started attacking long before and hence the decision to move in. We must deal with the enemy both within and without," said Kiambu Governor William Kabogo.
"The argument that we should exit is weak and a fallacy because there is no evidence that the terrorists will then cease attacks. Let's make Somalia peaceful because we get attacked for being a soft target primarily due to the 700km long border with Somalia," argues Senate deputy Speaker Kembi Gitura.
"A withdrawal will be seen as a sign of cowardice and provoke further attacks inside our territory. But the Government must beef up security along the border to forestall further incursions," said Isiolo Governor Godana Doyo.
Nyeri Governor Nderitu Gachagua said withdrawal would be tantamount to giving in to the demands of an evil terrorist organisation that "thrives in creating fear and shedding blood".
"Any withdrawal at this time will be very dangerous for this country. It would mean a stronger enemy and more terrorism," said Meru Senator Kiraitu Murungi.
Powerful countries
"If a thief attacks you after you had hired a watchman, will you sack them because you were raided?" posed Elgeyo Marakwet Senator Kipchumba Murkomen.
But Opposition leaders insisted attacks on Kenyans are due to Kenya's involvement in Somalia.
"We demand withdrawal of Kenya's military from Somalia with speed. The rain started beating us when we insisted on sending troops to Somalia. This is not a safe country any more," said Wiper leader Kalonzo Musyoka.
Siaya Senator James Orengo said history shows that even powerful countries like the US withdrew troops from hotspots like Afghanistan and Iraq. "We know very well the consequences of war of occupation and it will cost us. We should just withdraw our troops from Somalia to end this," he said.
Rarieda MP Nicholas Gumbo said the Government should rethink its strategy on Somalia, arguing that Ethiopia has a long borderline with Somalia yet it is not attacked.
But Gem MP Jakoyo Midiwo said: "President Kenyatta should first reorganise the chain of command in the security forces for an effective force to fight Al-Shabaab."
"Some of these things are brewed from Kenya and it is going to be difficult to help fight terrorism if Al-Shabaab is being brewed within the Kenyan borders," said Nominated MP Oburu Oginga, adding that construction a wall between Kenya and Somalia is "pure corruption".
"After the Garissa attack, it is time for the Government to think of withdrawing its troops from Somalia. We will win the war against terrorism if our military will be deployed at the border to secure the country," said Kakamega Governor Wycliffe Oparanya.
"They should have a human wall of soldiers. Let them come and line at the border day in and out to ensure security. Withdrawing the troops should be viewed as a technical retreat to organise the forces and not a failure," said Siaya Governor Cornel Rasanga. Kilifi Senator Stewart Madzayo asked the Government to publish a timetable of how and when Kenyan forces will be withdrawn.
-standardmedia.co.ke